Without reform, EU is headed for Frexit – Macron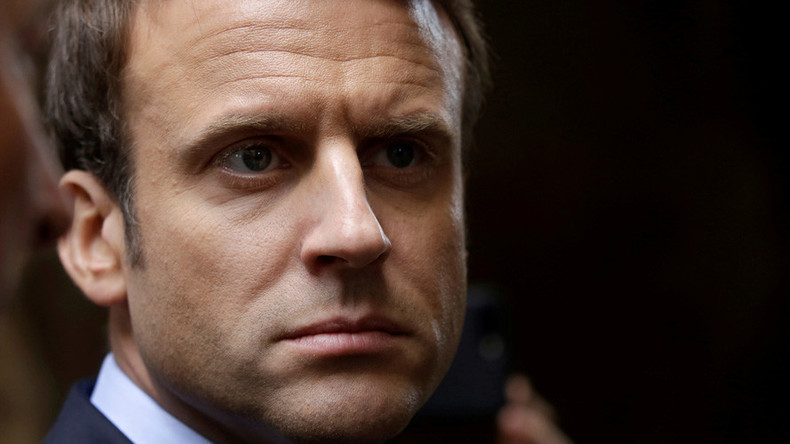 The "dysfunctional" European Union requires some in depth reform, or France could head for the door, French presidential candidate Emmanuel Macron said a week before the second election round.
Macron, who has positioned himself as a "pro-EU" candidate throughout his campaign, has taken a somewhat Euroskeptic stance as the race enters its final week.
READ MORE: 'Euro is dead': Le Pen eyes return of the Franc, preserving single currency for int'l trade
"I'm a pro-European. I defended constantly during this election the European idea and European policies because I believe it's extremely important for French people and for the place of our country in globalization," Macron told the BBC.
"But at the same time, we have to face the situation, to listen to our people, and to listen to the fact that they are extremely angry today, impatient, and the dysfunction of the EU is no more sustainable."
READ MORE: Macron's campaign accuses RT of spreading 'fake news,' dodges requests for clarification
If the EU continues its current policies, it won't only hurt "globalization," but will be a "betrayal," and "the day after, we will have a Frexit, or we will have National Front (FN) again," Macron stated, adding that he would dedicate "his mandate… to reform in depth the European Union and our European project."
While Macron called his party "the only pro-European political force in France," he described himself as "neither pro-European, Euroskeptic, nor a federalist in the classical sense."
Macron also strongly condemned Brexit, saying that it had paved the way for the UK to become a "vassal" of the US.
'Morbid continuity': Le Pen blasts Macron
During a May 1 speech before her supporters, Marine Le Pen called the upcoming second round of France's presidential elections "a historic…decisive choice because it will determine the fate of our country."
"My rival hasn't said whom he will choose [as Prime Minister], undoubtedly, not to scare the French people. Imagine what would happen to the French if they learnt that [billionaire businesswoman] Laurence Parisot is confirmed for this post, and the electoral disaster that could be caused for Mr. Macron. I will ask him once more to tell us the truth and say with which dressing he will eat the French? Who will be his Prime Minister? How many socialist MPs will be involved in the parliamentary elections campaign?" she asked.
She went on to that warn a Macron government would be one "of continuity," while hers would be one of "change."
Le Pen pointed out that "you see the system trying to impose its candidate, Francois Hollande attempting to impose his 'baby chick' Macron," who was branded "Emmanuel Hollande" not long ago.
Hollande "constantly urges to vote for Macron, sometimes a few times a day," she said.
"We saw [Hollande], one of the most hated presidents, leave through the door. Here he comes back through the window. Macron is Francois Hollande who wants to stay, and attaches to power like a barnacle," Le Pen added.
She called Macron the candidate of "a morbid continuity, littered with the corpses of jobs transferred offshore, the ruins of bust businesses, and the gaping holes of deficit and debt."
You can share this story on social media: