'Euro is dead': Le Pen eyes return of the Franc, preserving single currency for int'l trade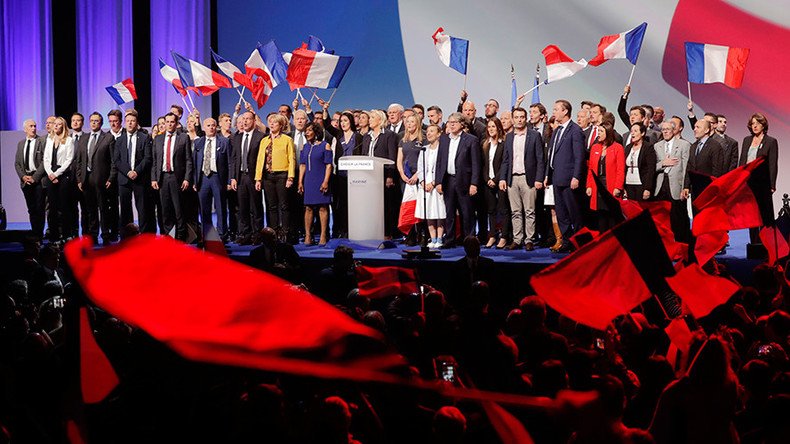 A week before the 2nd round of the French election, eurosceptic presidential hopeful Marine Le Pen has reminded her supporters that the "euro is dead" and should be left only for international trade, while France should regain control and reintroduce the Franc.
"We need to control the currency, to adjust it to the economy because today the single currency is a burden," Le pen said ahead of May 7 French presidential election, stressing that the "euro is dead."
"We will have a national currency like all other countries, and we will have a common currency together," Le Pen said in in an interview with Le Parisien.
In her interview Sunday, she explained that euro should become the currency that will be used by "only large companies that trade internationally."
On Saturday, Marine Le Pen struck a deal with a former rival Nicolas Dupont-Aignan, a fellow euro critic who garnered 4.7 percent of votes in the first round, who will serve as the prime minister if the 48-year-old right-wing populist gets elected.
"We will create a government of national unity," said Le Pen, as she appeared with Dupont-Aignan on BFM television.
That same day, in an interview with newspaper Sud Ouest, Le Pen noted: "If everyone is agreed we could take a year or a year and a half to organize a coordinated return to national currencies."
Yet the alliance statement by Dupont-Aignan's Stand up France' produced following the forming of the coalition noted that the return to Franc is not a pre-requisite.
READ MORE: Smoke grenades at rally against French presidential candidates in Paris (VIDEOS)
"The transition from the single currency to the European common currency is not a pre-requisite of all economic policy, the timetable will adapt to the immediate priorities and challenges facing the French government," the statement said.
Le Pen's presidential race rival Emmanuel Macron, who is an advocate of deeper European integration, had also expressed scepticism about the euro in its current state before, although insisting on reforms to bolster the single currency union to make sure it does not fail.
"The truth is that we must collectively recognize that the euro is incomplete and cannot last without major reforms," Macron said in January, citing a lack of trust between France and Germany that hampers the needed reforms. "The dysfunctioning of the euro is of good use to Germany… The euro is a weak Deutsche Mark… The status quo is synonymous, in 10 years' time, with the dismantling of the euro."
Le Pen who will face off the big business' hopeful Macron next Sunday in a second round vote, has repeatedly promised her electorate to leave the euro zone, hold a Brexit-style referendum, and levy taxes on foreign workers. She also vowed to lower the retirement age and increase some welfare benefits, while cutting income tax.
READ MORE: 'He is a hypocrite!' France's Macron heckled by pro-Le Pen workers in his hometown (VIDEO)
Despite the daring and radical proposals, Le Pen is still running behind her rival in the polls. In a poll by Odoxa released Friday, Macron's support stands at 59 percent versus Le Pen's 41 percent.ed Friday, Macron's support stands at 59 percent versus Le Pen's 41 percent.
You can share this story on social media: