Leave euro & vote Frexit: Le Pen unveils National Front manifesto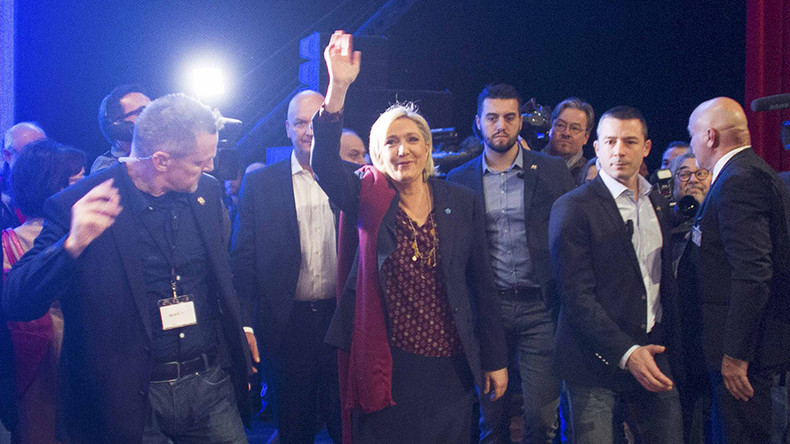 Abandoning the euro and a possible vote on exiting the EU are part of a newly-released manifesto by France's presidential hopeful Marine Le Pen. Drastically curbing migration and leaving NATO's integrated command are also among the proposals.
France should reconsider its relations with the European Union and give up the single currency, Le Pen, leader of the far-right National Front, said in her recently released manifesto. If that doesn't happen, France may face a referendum on leaving the alliance.
"The aim of this program is first of all to give France its freedom back and give the people a voice," Le Pen said, introducing the manifesto on Saturday in Lyon, Reuters reported.
In the manifesto, which consists of 144 "commitments," the 48-year-old candidate says a future French government should leave the euro zone, hold a Brexit-style referendum, levy taxes on foreign workers, lower the retirement age and increase some welfare benefits, while cutting income tax.
The document, however, is quite vague on how the National Front's economic program would allow it to reduce taxes and at the same time raise welfare payments.
The National Front leader also promised extra public spending to build new prisons for 40,000 more inmates and hire an additional 15,000 police officers.
France should be automatically deporting foreigners convicted of a crime, according to Le Pen's manifesto. People tracked by intelligence services for possible inclination toward radical Islam would be immediately ordered to leave. Mosques suspected of teaching radical jihadist ideas would be closed as well.
Le Pen also stands for withdrawing from the NATO Integrated Military Command Structures and allocating more funding to defense.
Under her manifesto, free education, now available to all residents of France, may only be accessible by French citizens in future.
Undocumented migrants will no longer have a chance to legalize their stay and would be stripped of free basic healthcare. Children of immigrants born in France won't be given French citizenship, as they are now by default.
In general, France's migrant quota could go down to 10,000 people per year, Le Pen said.
"This presidential election puts two opposite proposals. The 'globalist' choice backed by all my opponents ... and the 'patriotic' choice which I personify," Le Pen said in the manifesto.
If the presidential elections resulted in a win for Marine Le Pen, the daughter of National Front founder and Holocaust denier Jean-Marie Le Pen, she says she plans to push for a review of relations between EU states, aiming at very loose cooperation with no single currency. In case other members of the EU don't agree with Le Pen's plan, she said she would then initiate a referendum to leave the union.
Opinion polls, cited by Reuters, predict that Le Pen would go forward to the second round of election on April 23, but would fail to secure the victory on May 7, possibly paving the way for pro-European centrist candidate Emmanuel Macron to take the presidency.
However, with the unexpected win of Donald Trump in the US, Britain's decision to leave the EU and corruption speculation surrounding conservative French presidential candidate Francois Fillon all happening amid the overall rise of populism across Europe, the National Front believes in Le Pen's success.
"We were told Donald Trump would never win in the United States against the media, against the establishment, but he won... We were told Marine Le Pen would not win the presidential election, but on May 7 she will win," top National Front official Jean-Lin Lacapelle said, addressing party officials and members.
Macron, a former economics minister who distanced himself from the Socialist Party and is now running as an independent with his own En Marche party, held a rival rally in Lyon that attracted nearly 16,000 of his supporters, AP reported.
You can share this story on social media: