Hundreds join Khodorkovsky's Open Russia protests across Russia (VIDEO)
Published time: 29 Apr, 2017 20:41
Edited time: 30 Apr, 2017 16:42
Hundreds of Russians in more than a dozen urban centers gathered for anti-government protests, organized by ex-tycoon Mikhail Khodorkovsky's Open Russia movement. The protests were mostly peaceful, though in cities where the demonstrations were not sanctioned, some were detained.
The official slogan for the demonstration was "Tired of him!" and participants carried placards of President Vladimir Putin with these words written across his face.
Protesters were encouraged to hand in official letters of complaint against the Russian leader at the presidential administration offices in major cities, demanding that Putin does not run for a fourth term after his current one runs out next year.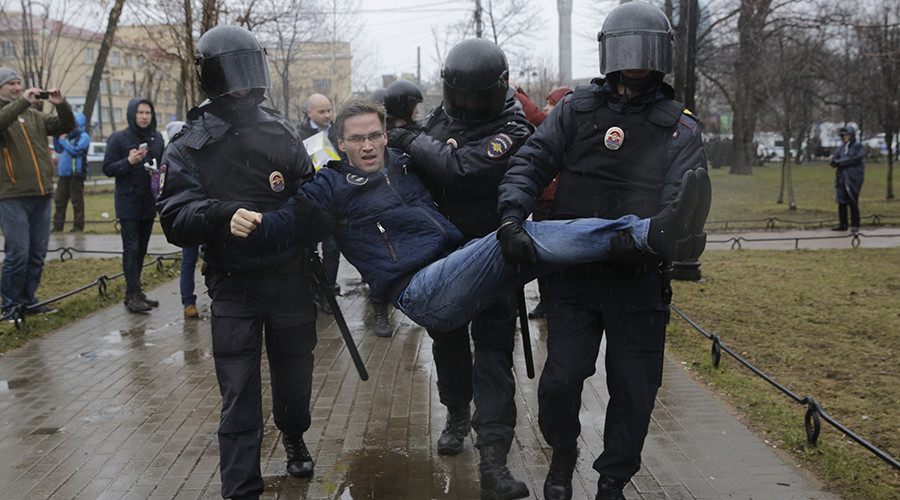 According to police figures, the best attended march was in Moscow, where 250 people took part, with 150 more in St. Petersburg, while there were double figures of attendees in other cities. Organizers claimed higher figures.
While the demonstrations were not officially sanctioned in either of Russia's biggest cities, in Moscow the protest passed off peacefully, with demonstrators standing in line to hand in their complaints to the authorities, and no arrests, despite dozens of police buses in the area, and a police presence that outnumbered the participants.
In St. Petersburg, police said that they detained people outside a metro station where the demonstration was due to begin, after protesters refused to obey police orders to disperse, boomed through loudspeakers. There were media reports of arrests in Tula, Kemerovo, and several other cities.
Earlier this week the UK-registered Open Russia, was labeled "undesirable" by Russia's Prosecutor General's Office, due to its criticism of Russian elections.
While Khodorkovsky's press secretary, Olga Pispanen, said that the demonstrations were "not about the numbers, but signaling intent," the demonstrations were far sparser and less passionate than the anti-corruption protests organized by Kremlin critic Alexey Navalny last month, which led to hundreds of arrests.
READ MORE:Interpol issues search notice for Khodorkovsky – Russian agency
Navalny and other opposition figures ignored protests by Khodorkovsky, who was touted as a potential opposition figurehead upon his release, but has failed to capture media and public attention in recent months.