French helicopter carrier with 2 British rotorcraft arrives in Japan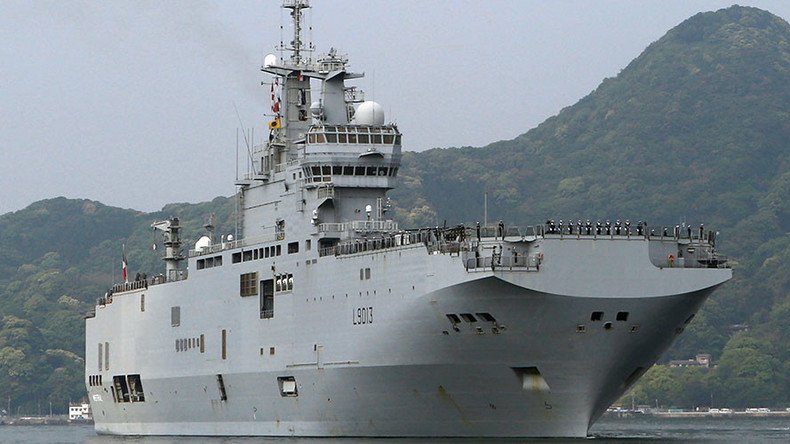 The Mistral, France's amphibious assault ship, arrived at a Japanese naval base on Saturday. The warship, which has two British Royal Navy helicopters on board, will take part in a joint drill with Japan and the US next month.
The French ship will lead the exercise in the Pacific near Guam, where the militaries of the four nations will practice landings around the island of Tinian. Some 700 troops will participate.
Japanese officials and children's welcome dances greeted the Mistral in Sasebo in the Nagasaki prefecture, where Japan has a major Maritime Self-Defense Force base that also hosts US Navy warships. The French ship will remain there until May 5, Reuters reported.
The Mistral had been dispatched to Japan in January, long before tensions spiked in the region after the US threatened to use military force against North Korea unless it stops its nuclear and missile programs. The ship arrived a day after Pyongyang had conducted an unsuccessful ballistic missile test in defiance of international pressure.
"We did not expect the start of our visit to coincide with a North Korean missile launch," France's ambassador to Japan Thierry Dana said on the Mistral's bridge, adding "cooperation between our four nations in upholding laws, peace and stability in the region will display our readiness to deal with North Korea."
The Mistral can carry up to 16 heavy or 35 light helicopters and has six landing spots on deck. It can also accommodate two to four landing boats, up to 59 ground vehicles, and up to 900 troops during short missions.
France currently has three Mistral-class ships in service and built two more for the Russian Navy. However, that sale was canceled under pressure from the US after the political crisis erupted in Ukraine.
The two helicopter carriers were later sold to Egypt at a significantly lower price, with France reportedly losing several hundred million euros and a lucrative option for two more ships that Russia wanted built under the license.
You can share this story on social media: