Sun 'exposes racism in Russia' with video of far-right Ukrainian football fans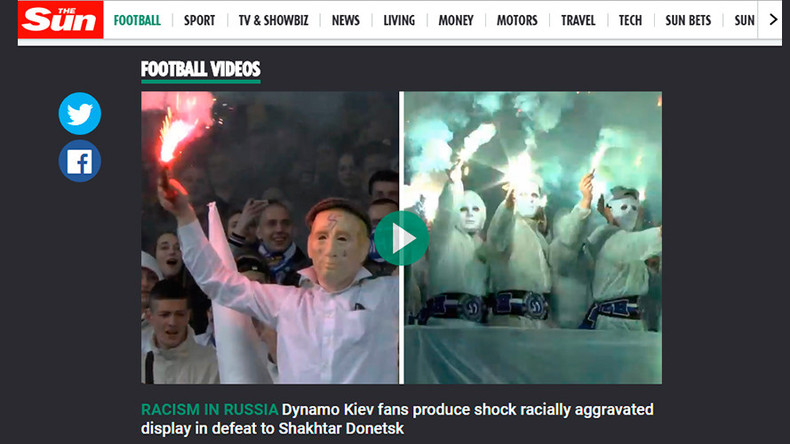 It appears the UK tabloid, The Sun, needs a lesson in geography after it posted a video of controversial Ukrainian football fan group White Boys Club, who wear KKK capes, and paint swastikas on their clothes under the title 'Racism in Russia'.
The video was an edited version of a clip posted on YouTube, which shows Ukrainian ultras – hardcore fans of Dynamo Kiev – putting on a visual display during a home match against their biggest rivals, another Ukrainian team, Shakhtar Donetsk last week.
Despite being incorrect, the caption was not removed from the website for several hours.
It is not clear whether this was an innocent geographical error on the part of The Sun, which has been running a campaign warning of hooliganism at next year's World Cup in Russia.
An accompanying article about the display also made no mention of the fact that the events were taking place in Ukraine.
Behind a sign emblazoned with '100 percent white,' several thousand ultras – many wearing retro hockey goalkeepers masks and overalls – launch pyrotechnics, break into chants, and perform choreographed routines.
Boys' songs are directed against Russia, while foreign players, particularly darker-skinned ones, are frequently subjected to whistles and boos.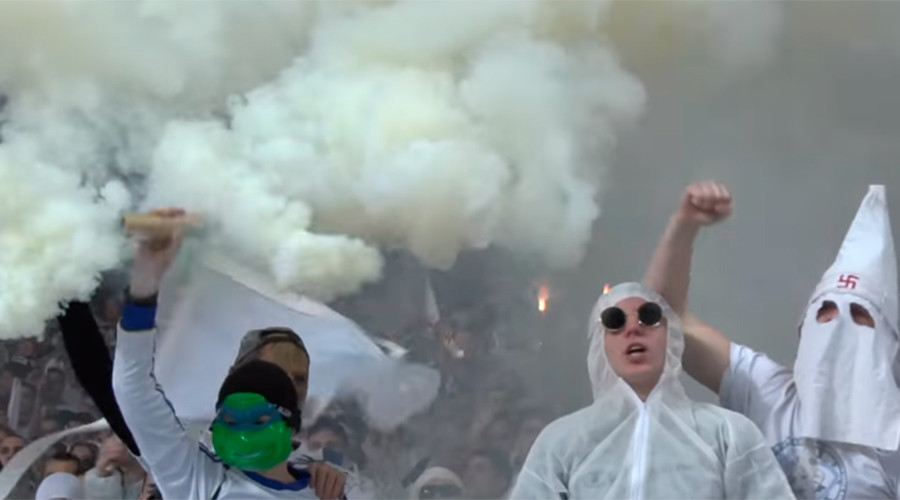 Various such movements, often modeled on English 'football firms' and flare-launching and banner-waving Italian ultras, sprung up in the former Soviet Union in the late 1980s.
While the name White Boys Club also refers to Dynamo's club colors, the organizers do not deny that they have grown hand-in-hand with nationalist and far-right movements, and the badges sold by the group feature a Nazi-era heraldic eagle.
READ MORE: Dynamo Kiev fans wear KKK outfits, swastikas in 'white frenzy' display intended for UEFA official
Since the 2014 Ukrainian revolution, fans have officially put an end to their altercations, and instead have united in supporting the country against "Russian aggression."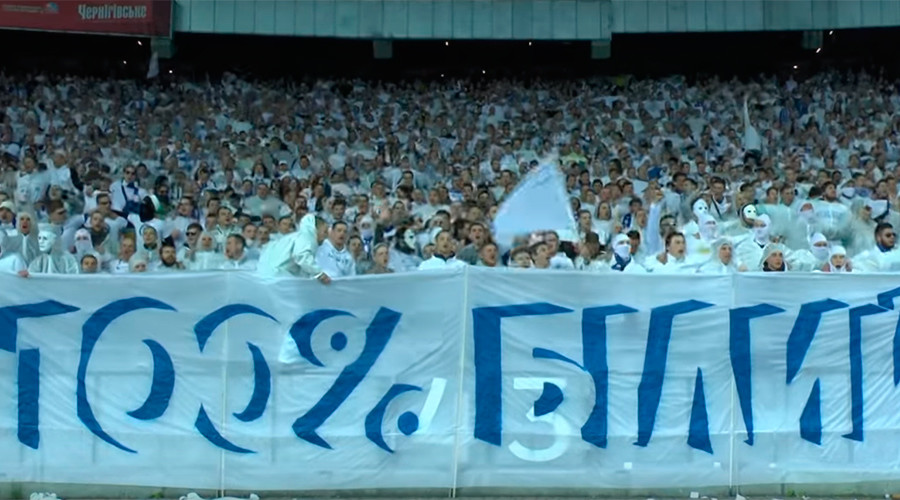 While the ultras themselves insist that their behavior is not illegal, there have been multiple incidents of violence inside the stadium, including a scene four years ago, when black supporters were chased out of the stadium in Kiev.
The use of flares, and incendiary political symbols – including swastikas, and other controversial regalia, such as outfits with the number 88, which celebrates Adolf Hitler – is banned by international football bodies. Violence outside stadiums is also frequent, as YouTube clips and testimonies attest, though usually self-policed.
You can share this story on social media: