China to go on with drills, weapons tests in response to THAAD deployment – Defense Ministry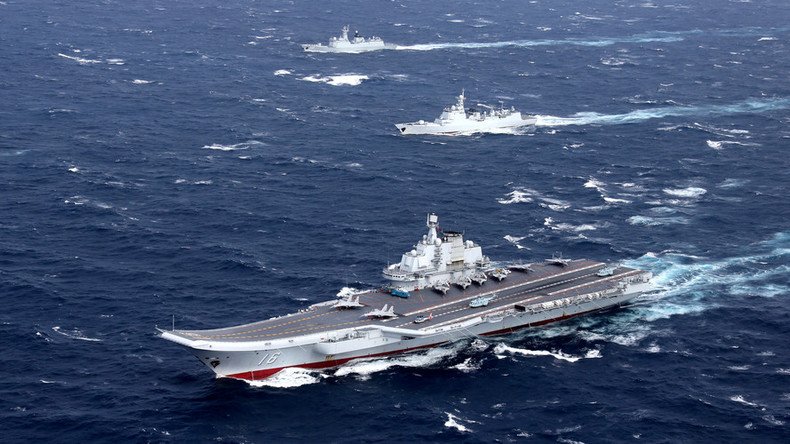 China will continue to stage live fire drills and test new weapons to protect its national security, the Defense Ministry says. It comes after the deployment of the US THAAD anti-missile system to South Korea, to which Beijing is "resolutely opposed."
"The deployment of the THAAD anti-missile system in South Korea damages the regional strategic balance and stability. The Chinese side is resolutely opposed to this," Defense Ministry spokesman Yang Yujun told reporters on Thursday, when asked about the Terminal High Altitude Area Defense (THAAD) system.
"China's military will continue to carry out live-fire military exercises and test new military equipment in order to firmly safeguard national security and regional peace and stability," he said, as quoted by Reuters.
Beijing has long spoken out against THAAD over fears it will undermine its own deterrence capabilities. A March editorial in the state-run Global Times newspaper said Washington should "pay the price" for the deployment of the system, which it said was "on China's front door."
However, the US insists the system is for purely defensive purposes, against any potential attacks from Pyongyang. US Admiral Harry Harris told Congress on Wednesday that it "poses no threat to China."
THAAD, which was moved onto a golf course in Seongji, North Gyeongsang Province, South Korea, on Tuesday, is designed to intercept short, medium, and intermediate-range ballistic missiles during their terminal flight phase. It is equipped with long-range radar and is believed to be capable of intercepting North Korea's intermediate-range ballistic missiles.
The system will be operational in the "coming days," according to Harris.
The Chinese Defense Ministry's statements come as the US continues to urge Beijing to put pressure on North Korea, as China is the country's main economic lifeline.
Referring to the increased tensions between Washington and Pyongyang on Thursday, China said it approves of a recent statement by the Trump administration which said the White House is still "open to negotiations" to achieve stability and "peaceful denuclearization" on the Korean Peninsula.
When asked about such statements, Chinese Foreign Ministry spokesman Geng Shuang said Beijing had noted that many US officials had recently made similar remarks.
"We have noted these expressions, and have noted the message conveyed in these expressions hoping to resolve the Korean nuclear issue peacefully through dialogue and consultation," he said.
"We believe this message is positive and should be affirmed."
Earlier this week, China urged restraint from all sides of the conflict during a call with US President Donald Trump, whose administration continues to state that "all options are on the table" when it comes to North Korea.
You can share this story on social media: