Venezuela to leave 'interventionist' OAS group amid deadly anti-govt protests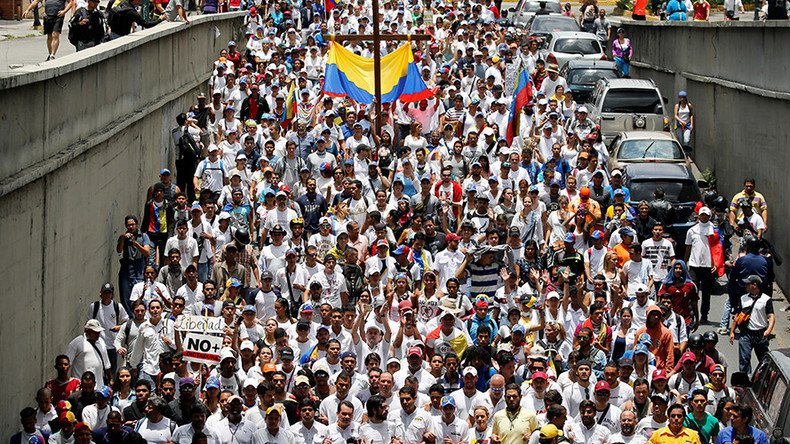 Caracas has decided to withdraw its membership from the Organization of American States after the body voted to "breach sovereignty" and convene an emergency meeting over the ongoing violent crisis in Venezuela that has already resulted in 29 deaths.
The Venezuelan Foreign Minister, Delcy Rodriguez, announced that the Latin American country will begin the process of exiting OAS after the organization convened a meeting of foreign ministers to discuss Venezuela.
The decision by the OAS' Permanent Council was passed by 19 votes to 10, with one abstention and one absence.
The foreign ministry and President Nicolas Maduro will forward a letter to the OAS on Thursday stating that "Venezuela will not participate in any activities that promote interventionism," Rodriguez said, adding that the exit process will take 24 months.
Addressing the nation that has been engulfed in violence, Rodriguez asserted that the OAS seeks to criminalize the Venezuelan government and destabilize its constitutional democracy in order to facilitate foreign intervention. The country's chief diplomat said that OAS does not have the consent of the affected country to intervene in domestic affairs.
Samuel Moncada, Venezuela's representative to the Organization of American States, said that the fate of the South American nation will never be decided by institutions such as the OAS or Washington.
Protests in the country have been ongoing in Venezuela since March 29, after the Supreme Court ruled to take over the duties of the National Assembly, a ruling many saw as undemocratic. Although the Supreme Court repealed the ruling three days later, this was not enough to assuage anti-government protesters.
The opposition has demanded the government hold fresh elections as soon as possible. President Maduro has agreed but a date has yet to be set.
At least 29 people have died in clashes so far this month, according to Reuters, as many of the rallies erupted in violence and vandalism.
Clashes erupted in Caracas again on Wednesday after National Guard troops and police blocked a highway in the area of the capital where thousands demonstrated. Venezuelan police fired tear gas at stone-throwing anti-government protesters as masked youths picked up tear gas canisters to hurl back at security forces.
While police stopped protesters advancing, government supporters staged a counter-rally near the presidential palace in central Caracas.
Maduro's opponents are demanding the release of imprisoned protesters, humanitarian aid to help with food and medicine shortages, as well as autonomy for the opposition-led legislature.
Maduro claims recent protests are nothing more than opposition efforts to stir up violence and topple his government. Bolivian President Evo Morales agrees with his counterpart that the anti-government protests in Venezuela are "a coup d'etat, driven by the right."
"I feel sad that the Organization of American States [OAS] keeps on its tradition of coups, which is the primary means of the North American empire," Morales said in an interview with RT.
You can share this story on social media: