'Holocaust Cabaret' theater sign in Kiev sparks outrage in Jewish community, social media
Published time: 25 Apr, 2017 21:13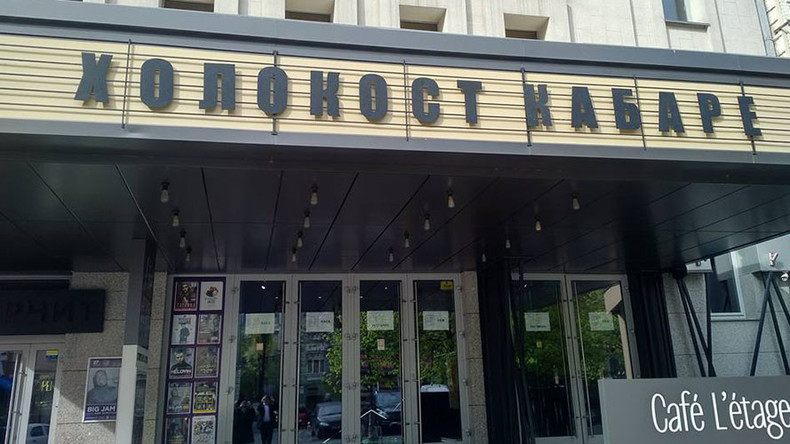 A controversial theater sign "A Holocaust Cabaret" announcing a new play staged in the Ukrainian capital has provoked a storm of criticism from the local Jewish community and social media users.
The new play in a Kiev theater is based on Canadian Jonathan Garfinkel's "The Trials of John Demjanjuk: A Holocaust Cabaret." The play tells the story of John Demjanjuk, the bloodthirsty Nazi extermination camp Treblinka guard, who was brought to trial in Jerusalem in 1987.
READ MORE: Moscow barbershop creates uproar by offering 'Hitler Youth' haircuts for toddlers
The play managed to stir controversy even before the first night after Ukraine's chief rabbi brought the provocative "Holocaust Cabaret" sign to the public's attention.
The timing of the event added fuel to the fire as the sign appeared on the theater's facade on April, 24 – Holocaust and Heroism Remembrance Day, which commemorates the nearly six million Jews killed in the Holocaust.
READ MORE: Dutch coloring book with Hitler's picture pulled from shelves
"This horrible thing (I can't find any other words) was installed in central Kiev yesterday, on the Holocaust Remembrance Day, in the city where Babi Yar is located [a site of massacres carried out by Nazis], right in front of the central synagogue.
And they are selling tickets for a Friday show. I don't know who needs this provocation, but I can say that we, the Jewish community, will do everything to get rid of this provocation immediately," Ukraine's Chief Rabbi wrote on his Facebook page.
The rabbi's post was shared almost 500 times in less than 10 hours drawing more than 150 comments from infuriated users.
Some tried to find a logical excuse to this kind of outraging ignorance.
"Why didn't they open this cabaret right at the Babi Yar site?" a man from Israeli city Ariel wrote in the comment section below the rabbi's post.
READ MORE: Hitler's Mein Kampf returns to Japanese schools as 'teaching material'
"They should have used the whole title of the play! Its idea is really important! Especially today!" a woman from Kiev said.
"Their PR or marketing managers might be lacking morals or ethics or have some gaps in education. They might have done it not from malice," another person suggested.
The sign has apparently been taken down after numerous reports in the local media accompanied by the public uproar. The destruction was sanctioned by Ukrainian authorities, according to the rabbi's second post.
The play has already performed in Germany, Canada, and the US.
"The Trials of John Demjanjuk: A Holocaust Cabaret" will premiere on April, 28 at Kiev's Bel'etage concert hall.