'Robbery of the century': Gang unleashes war tactics as up to $40mn stolen (GRAPHIC IMAGES, VIDEOS)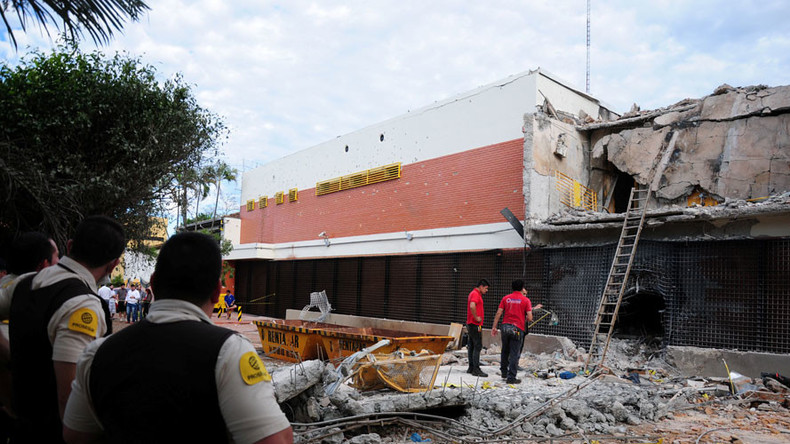 A group of up to 50 armed assailants laid siege to a police headquarters in Paraguay on Monday while stealing up to $40 million from a security firm. Four people were killed in what was dubbed the "robbery of the century" and subsequent police operations.
LATEST: Brazil arrests 8 suspects after explosive, ultra-violent heist in Paraguay
The gang, believed by police to include members of notorious Brazilian drug gang First Capital Command, targeted the headquarters of Prosegur, a security company specialising in the transportation of cash in the Paraguayan city of Ciudad del Este.
An explosive blew open the front of the facility, killing one policeman who was on guard, reported BBC Mundo. The gang then seized the contents of the firm's vault, described by public prosecutor Denise Duarte as being full at the time. Police said the vault can hold $40 million in cash but the amount stolen has yet to be confirmed.
Duarte described the assailants as wearing masks and speaking Portuguese.
Police were prevented from responding when the gang stopped them exiting their headquarters with 19 cars, explosives, and a rocket launcher, engaging in a battle that left the security firm premises without help for two hours.
"The security firm's premises has been destroyed and the attack caused chaos and terror in the city," Justo Zacarias, the governor of surrounding Alto Parana state, told reporters.
Paraguay's Interior Ministry tweeted images of the weapons used in the assault.
Heavy gunfire can be heard in video geo-located to Ciudad del Este and shared to social media at the time of the incident.
The gang are believed to have escaped using armoured trucks belonging to Prosegur before transferring to boats at the Parana river.
The Paraguayan Interior Ministry said that a another confrontation occurred across the border in south-west Brazil in the municipality of Sao Miguel do Iguacu, hours after the siege at Ciudad del Este in Paraguay.
A joint operation between Paraguayan and Brazilian police killed three of the assailants and arrested four suspects, reported BBC.
"Three dead and four detainees," the Interior Ministry tweeted, along with images of an armed member of the security forces standing over a man laying on the ground. The image is said to be taken in Sao Miguel do Iguacu.
WARNING: The following video contains graphic content. Viewer discretion advised
Video from members of the public, geo-located to the same area, shows a similar scene along with a gathering crowd fleeing when gunfire is heard.
At least 12 people managed to escape police at a third confrontation in Itaipulandia, also on the Brazilian side of the border.
In a tweet showing an abandoned vehicle, Paraguay's Interior Ministry said that they were working with their Brazilian counterparts in the operation.
Paraguayan police chief Luis Rojas said it was possible the attackers had help inside the police.