Turkish pre-school kids re-enact failed coup with fake weapons & fallen 'martyr' (PHOTOS)
Published time: 24 Apr, 2017 17:48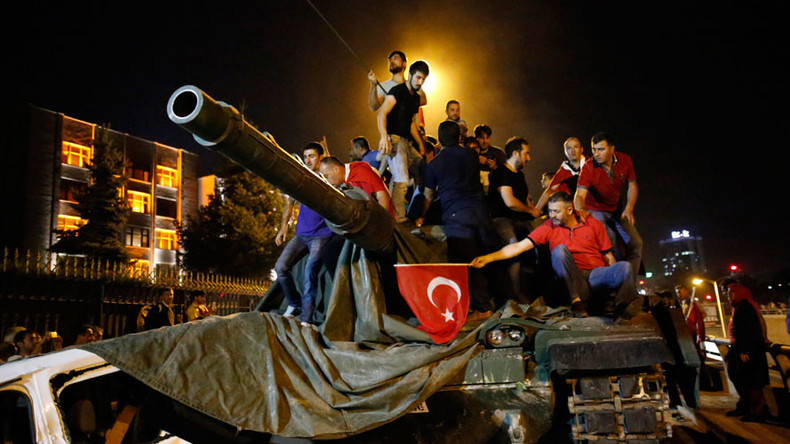 A controversial performance on Turkish Children's Day, which featured kindergarten kids "clashing" with each other and playing fallen "martyrs" in a re-enactment of the events of the failed 2016 coup, met with mixed reaction from both teachers and officials.
The performance was a part of the celebrations for National Sovereignty and Children's Day, a uniquely Turkish holiday, and took place in the sports hall of Sami Yangın school in the city of Kayseri on Sunday.
Kindergarten students enacted two separate plays, one was devoted to the World War I Battle of Gallipoli, while the other, dubbed 'July 15,' recreated the events of last year's failed coup attempt, which left over 200 dead and some 300 injured.
The children played out the attempted coup using plastic prop assault rifles. In the finale, pupils playing soldiers loyal to President Recep Tayyip Erdogan draped their "fallen" comrade with a Turkish flag and saluted the "martyr."
The children's parents, relatives, teachers and fellow pupils came to see the play, as well as some top provincial officials, including Kayseri governor Suleyman Kamci. The play apparently met with a mixed reaction: while some viewers applauded, others were reportedly shocked by the controversial performance. Some members of the official delegation reportedly voiced concerns over the use of toy weapons and the somewhat brutal plot.
The performance sparked online and offline debate regarding the ethics of such plays, as well as their influence on the pre-schoolers' mental health.
"Children were given weapons in Kayseri to celebrate April 23! What will happen to your children tomorrow, if your child spends the holiday armed?" one of the comments reads.
"A pre-school child cannot distinguish play from reality," the head of the Department of Preschool Education of Hasan Ali Yücel Faculty in Istanbul University, Dr. Luftu Ilgar, told Hurriyet Daily.
"Such types of plays are not suitable for the development of a child. Such elements as guns, violence, death and blood should not be used in an event of such sort. It's not appropriate for their mental health. … It may cause trauma," he added.