Croatian church calls for ban on play showing Jesus 'raping' Muslim woman (VIDEO)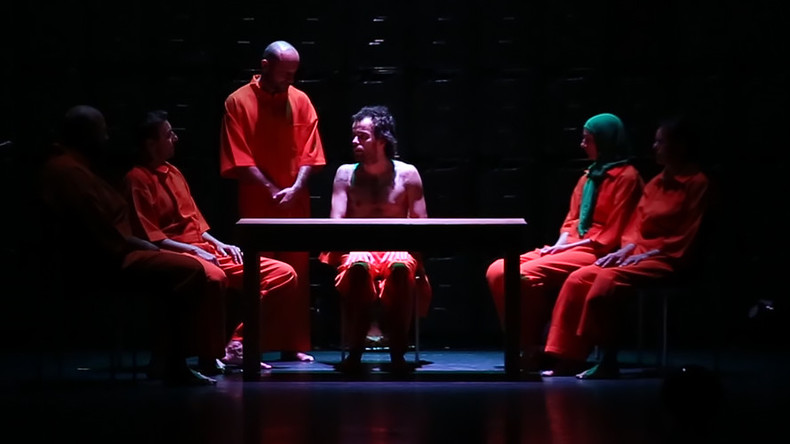 A controversial play in which Jesus Christ is depicted raping a Muslim woman has been denounced by Croatia's Catholic Church days ahead of its debut at a theater festival. The play has already received condemnation and sparked some protests in Europe.
Our Violence and Your Violence, a play directed by a Croatian playwright Oliver Frljic, features scenes deemed insulting to Christian believers, according to a statement from the Split-Makarska Archdiocese cited by local media. The performance reportedly contains scenes in which the actor playing Jesus Christ descends from a cross and acts out a rape of a naked Muslim woman after she pulls a national flag (which varies depending on the country where the play is staged) from her vagina.
On Saturday, the church called on the Ministry of Culture and the authorities of the city of Split, which is to host the 'Marulic Days' theater festival, to prevent cultural humiliation and further offence to "God, man and the nation." The Archdiocese stated that it had received a lot of complaints from its parishioners. It also urged that the play's inclusion in the festival be reconsidered, as it "offends religious and national feelings, as well as common sense."
"We urge all those responsible... to make the necessary steps to activities, which are not worthy of the name of Marko Marulic and the city of Split, that [the play] does not insult people and humiliate culture," the statement says, as cited by a local newspaper. It also notes that the play is an insult to the memory of Croatian national poet and Renaissance humanist, Marko Marulic, who was born in Split and after whom the festival has been named.
Some local politicians have called on residents to protest the performance, saying that its explicit naked and violent scenes "offended in the most brutal way the religious and moral feelings of Christians, Muslims and other Croatian citizens," local media report.
The provocative 72-minute performance is scheduled to begin at 8pm local time on Monday as a part of the 27th 'Days of Marulic' festival, which opened on Friday evening and runs until April 28. The play, inspired by Peter Weiss The Aesthetics of Resistance, was written to criticize European attitudes towards the refugee crisis.
Another of Oliver Frljic's provocative shows, The Curse, sparked protest in the Polish city of Warsaw, where some right-wing activists blocked the entrance to the theater and were dispersed by police, while nine were reportedly detained. The author was also accused of blasphemy back in 2016 when his work was staged in Bosnia and Herzegovina, prompting heated debate followed by condemnation.