Filipino Catholics crucify themselves in gruesome Easter reenactment (GRAPHIC VIDEO)
Published time: 14 Apr, 2017 21:39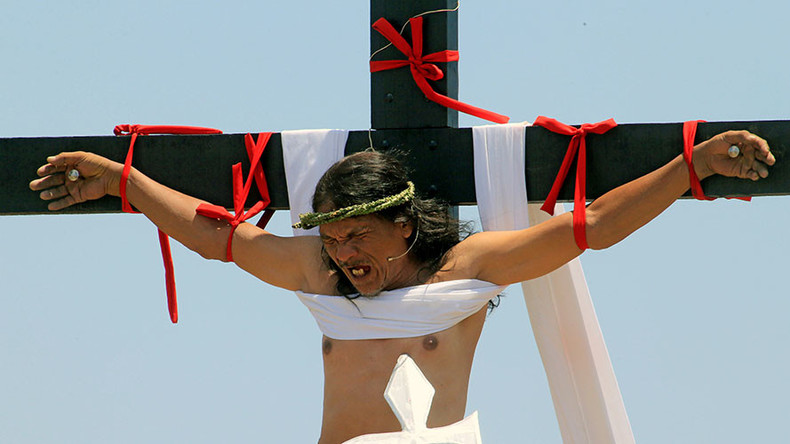 As Christians around the world celebrate Easter, several devout believers in the Philippines are taking it a step further by reenacting the crucifixion for real, in a practice frowned upon by Church leaders in Asia's largest Roman Catholic nation.
A number of male Catholic devotees in San Fernando City performed a bloody reenactment of the crucifixion of Jesus Christ on Friday.
The men volunteered to be whipped and nailed to crosses in a yearly Good Friday ritual, asking for forgiveness for their sins by experiencing the pain Jesus is believed to have endured.
"When we suffer here like this, it's like we are helping the Lord," proclaimed local devotee Arnold Castro. "Oh, when it's finished and you take a bath, it really hurts," he added.
According to The Philippine Daily Inquirer, the Good Friday ritual has taken place in San Fernando since travelling faith healer Artemio Anoza started the practice in 1962.
READ MORE: Christ's crucifixion might be 'too distressing' for some UK university students
One man who was nailed up earlier in the day is Ruben Enaje, 57, who endured crucifixion for the 31st time. "As long as we trust in the Lord, praying fervently, it's never too far that the Lord won't listen," The Inquirer quotes Enaje as saying.
Christians celebrate Good Friday, the first Friday before Easter, as the date of Jesus Christ's crucifixion by the Roman authorities. According to scripture, Christ was resurrected on Easter Sunday and through his death, burial, and rebirth, delivered his followers from sin.