Police wives march through Paris to protest violence against officers (PHOTOS, VIDEOS)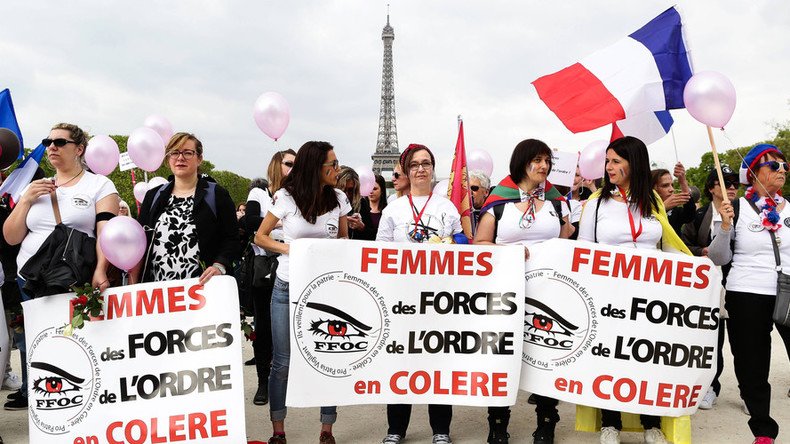 Around 200 police wives are protesting attacks on officers in Paris, just days after one officer was killed and two others injured on the Champs Elysess.
Demonstrators from the group Femmes des Forces de L'ordre en Colere gathered at the Eiffel Tower before beginning their march. Some were seen paying their respects to the officers providing security at the scene.
Avant d'entamer leur marche, les femmes des forces de l'ordre embrassent les gendarmes qui assurent la sécurité tout au long du parcours pic.twitter.com/BBtg1vJFdE

— Stéphane Kovacs (@KovacsSt) April 22, 2017
The women carried roses, pink and black balloons, and placards bearing various slogans as they marched through the streets. Some also waved French flags.
One of the signs read "Don't touch my police officer," a twist on a famous French anti-racism slogan, according to the BBC.
READ MORE: Paris shooter carried note praising ISIS in his pocket during cop attack – French official
Another placard said "Enough police officers killed and burned," referring to both officer Xavier Jugele's death on Thursday and a firebomb attack on a police car carrying four officers in a Paris suburb last October.
Some also shouted "Under the uniform, there is a husband, a dad!" according to a reporter for Le Figaro.
The event was organized via a Facebook page created in February by Aurelie, an officer's wife from the southwestern French department of Lot-et-Garonne. More than 4,700 people have joined the group.
Au Champs-de-Mars à Paris, les femmes des forces de l'ordre en colère. "Sous l'uniforme, il y a un mari, un papa!", rappellent-elles pic.twitter.com/3sYex1sW6S

— Stéphane Kovacs (@KovacsSt) April 22, 2017
Aurelie told Le Figaro that respect and support for police is important. While acknowledging that this had been stressed by the government on Thursday evening, she asked "how long will it last?"
She went on to say that hatred towards police families is increasing on social media, with children being instructed not to tell anyone that their father is an officer.
Aurelie also said acid had been thrown on her husband during a protest against the Labor Act.
Children are also participating in the movement, drawing pictures that will be distributed to police stations and gendarmeries.
READ MORE: Man flagged for possible links to Paris shooting turns himself in to Antwerp police
The event comes just two days after Jugele was shot twice in the head by a criminal by the name of Karim Cheurfi. Two other officers were wounded in the shooting.
Cheurfi was shot by authorities shortly afterwards. A note celebrating Islamic State (IS, formerly ISIS/ISIL), which authorities believe fell out of Cheurfi's pocket, was found near his body.
You can share this story on social media: