Spanish man sentenced to death in Thailand for gruesome murder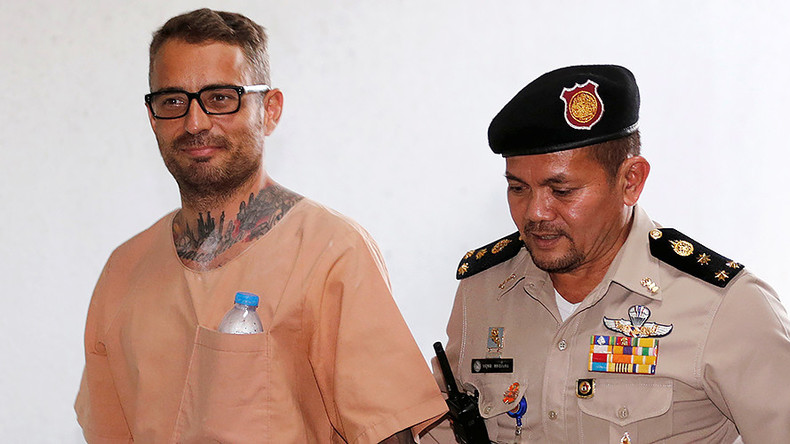 A Thai court has sentenced a Spanish man to death for murdering a fellow Spaniard for financial reasons. The accused reportedly choked his victim to death, put him in a freezer, and then dismembered the body parts and dumped them into a river in Bangkok.
On Friday, Thailand's Criminal Court convicted Artur Segarra, 38, of kidnapping, torture, premeditated murder, and concealing the body of David Bernat, 40 (41, according to some media reports). Segarra was also found guilty of theft.
According to prosecutors, Segarra forcibly detained Bernat in his room at the PG Rama IX condominium in Huay Khwang district of Bangkok in January of last year and tortured him into revealing his ATM pin number.
Segarra then stole some 734,940 baht ($21,389) from Bernat, who was a businessman.
He then drugged his victim, suffocated him with a plastic bag, and put the body in a freezer. Afterwards, he dismembered Bernat's frozen body parts with a grinder and tossed them into the Chao Phraya River.
The Spaniard's body parts were found in the river in the cities of Bangkok, Nonthaburi, and Pathum Thani in January of 2016.
"Forensic evidence such as blood stains and fingerprints on (Segarra's) electric grinder had DNA that matched the victim," the judge said on Friday, as cited by AFP.
The prosecutors presented no witnesses to the murder. The court ruled on the basis of CCTV footage and testimonies given by a housekeeper and Segarra's Thai girlfriend, as well as forensic evidence, which was found strong enough to indict Segarra.
"Therefore the judge sentences the defendant to death on the grounds that he committed premeditated murder in order to steal the victim's money," the ruling read.
Following the hearing, Segarra's lawyer, Jessada Piyasuwanvanich, told reporters that he may file an appeal and "fight the case to the end."
Segarra was arrested in the town of Sihanoukville, Cambodia, and then handed over to Thai police in February of 2016. He has denied any involvement in the murder ever since.
After Bernat's death, investigators said more than $1 million had been moved from his bank accounts.
Thai and Spanish media reported that when Segarra arrived in court on Friday he showed his palm with "Lucas 23:34" written on it in ink, in an apparent reference to the Bible verse, Luke, chapter 23:34, in which Jesus says: "Father, forgive them, for they know not what they do."
The death penalty is Thailand is administered via lethal injection. The death penalty worldwide website cited figures from the country's Department of Statistics showing it had 649 prisoners that had been handed death sentences as of January 31, 2015.
Drug-related offenses accounted for at least 47 percent of death penalty convictions in 2014.
However, Thailand's last execution took place in 2009, when two men were executed for drug-trafficking offenses.
A foreigner being arrested on suspicion of criminal activity is not a rare phenomenon in Thailand. In September, Thai police arrested two Americans who they accused of hiding dismembered body parts in a house freezer in Bangkok.
You can share this story on social media: