IDF uses stun grenades, tear gas to disperse rally in support of Palestinian hunger strikers (VIDEO)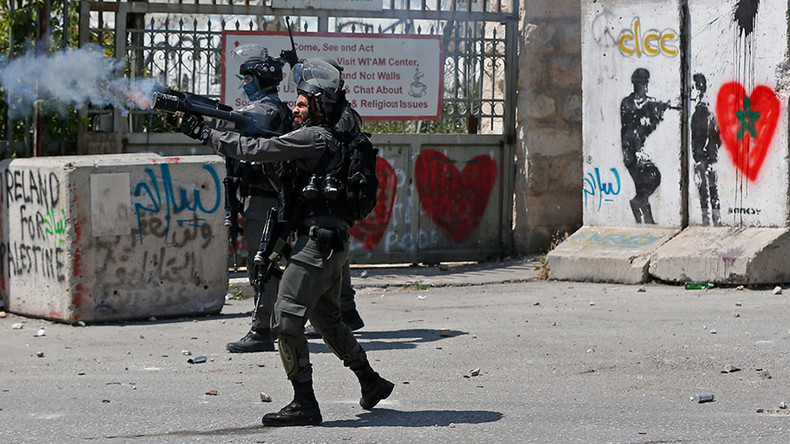 The Israeli Defense Force (IDF) used stun grenades and fired tear gas to disperse a rally in support of hunger striking Palestinian inmates in Israeli prisons, which was taking place in the city of Bethlehem in the occupied West Bank on Friday.
The march began at the al-Azza refugee camp where the Palestinians set up a solidarity tent in support of the hunger strikers.
The protesters, carrying Palestinian national flags and chanting anti-Israeli government slogans, had made all their way to the northern entrance of Bethlehem City when the IDF intervened.
The security forces employed stunt grenades and tear gas to disperse the crowd, with the Palestinians replying by pelting stones at the troops.

One Palestinian was reportedly detained, while several people suffered from severe tear gas inhalation, Palestinian news agency WAFA reported.

An IDF spokesman said he was unaware of the arrest and suffocations among the protesters, promising to look into the reports.
READ MORE: Right-wing Israelis stage BBQ outside prison to taunt Palestinian hunger strikers
The hunger strike across Israeli prisons began Monday as Palestinian inmates protested against their conditions of incarceration.
The hunger strikers are demanding to be moved to prisons inside the occupied territories to make it easier for families to visit, for restrictions on family visits to be lifted, for improved access to medical care and for the restoration of educational facilities, among other things.
READ MORE: 'Terrorists getting what they deserve': Israel refuses to negotiate with Palestinian hunger strikers
According to the Times of Israel, the number of Palestinian inmates on hunger strike in Israeli prisons had reached between 1,200 and 1,300 people by Friday.
You can share this story on social media: