'Terrorists getting what they deserve': Israel refuses to negotiate with Palestinian hunger strikers
Published time: 18 Apr, 2017 14:16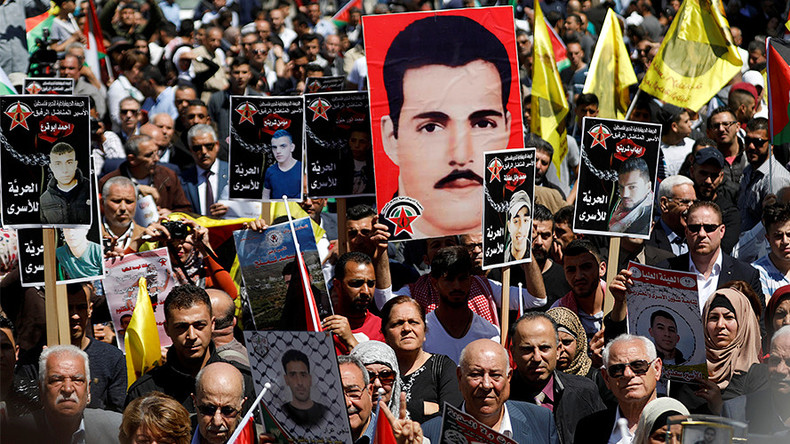 Top Israeli officials have vowed not to negotiate with Palestinian prisoners on hunger strike, adding that the death penalty would "prevent" imprisoned Fatah leader Marwan Barghouti from staging the nationwide protest.
"They are terrorists and incarcerated murderers who are getting what they deserve and we have no reason to negotiate with them," Israeli Public Security Minister Gilad Erdan told Army Radio on Tuesday, according to media reports.
The large-scale hunger strike began on Monday, with prisoners demanding improved conditions, including visits, medical treatment, and education. The protests also marked the annual 'Palestinian Prisoners' Day' in support of political prisoners.
Some 1,300 inmates went on strike, the head of prisoner affairs for the Palestinian Authority, Issa Qaraqe, said Monday, noting that the number could rise. The Palestinian Prisoners' Club gave a larger number of 1,500 people on hunger strike.
Jailed Fatah leader Barghouti, who was sentenced to five life sentences for five murders plus 40 years for attempted murder, is believed to be one of the hunger strike leaders. Israeli Intelligence and Transportation Minister Yisrael Katz condemned Barghouti's alleged involvement in the strike, adding that the death penalty would prevent him from remaining politically active behind bars.
"When a despicable murderer like Barghouti protests in prison for improved conditions, while the relatives of those he murdered are still in pain, there is only one solution – death penalty for terrorists," Katz tweeted Monday.
Barghouti and another strike leader, Karim Younis, were reportedly transferred to solitary confinement by the Israeli Prison Service (IPS) on Monday in an apparent attempt to curb the protest.
A day before the strike began, Barghouti had described his personal experience in Israeli prisons, speaking of "inhumane" treatment and "humiliation" when explaining the reasoning behind the protest.
"Decades of experience have proved that Israel's inhumane system of colonial and military occupation aims to break the spirit of prisoners and the nation to which they belong, by inflicting suffering on their bodies, separating them from their families and communities, using humiliating measures to compel subjugation," Barghouti said in a New York Times op-ed on Sunday.
READ MORE: Israel 'fails to meet' African asylum seekers' basic needs in detention facilities
Some 6,500 Palestinians are being held in Israeli prisons, including 300 minors, according to Palestinian human rights organization Addameer. [link ]Around 500 people are held under administrative detention, which effectively allows de facto imprisonment without any charges for an indefinite amount of time.
The poor prison conditions were condemned in an Amnesty International report published last week. Prisoners' relatives told the humanitarian group that they had not seen their incarcerated family members for years, as Israeli officials frequently refused visits, citing "security grounds."