India bans elitist red beacons from VIPs' cars, including for PM and president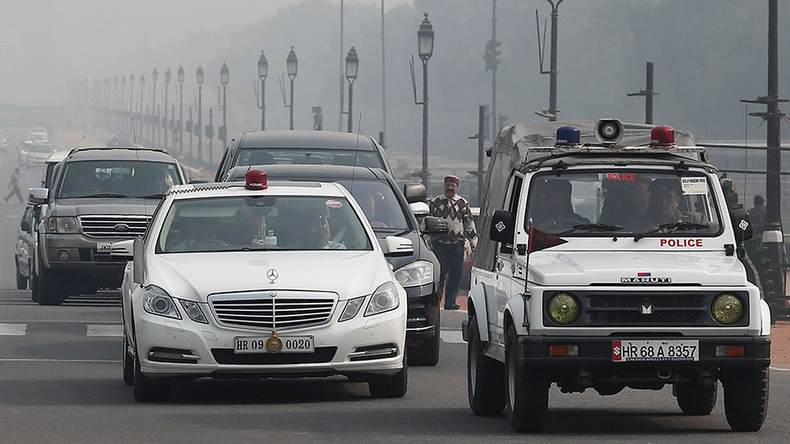 In a bid to scrap elitist VIP culture, India's government has decided to ban all red beacons from vehicles belonging to state officials. The legislation doesn't even exempt vehicles transporting the country's prime minister, president, or heads of states.
From May 1, Lal Batti, or red beacons, will be banned from all vehicles on India's congested streets. Only emergency services, including ambulances, firemen's vehicles, and police cars, will be able to use blue lights.
"We are removing the rule which allows state and central government to specify who can use the red lights," Minister of Finance, Defence, and Corporate Affairs Arun Jaitley said at a news conference in New Delhi.
"From May 1, no vehicle will have a red light. There will be no exceptions," he said.
High-ranking officials have long used red lights in India to cut through traffic while on official trips, when police often erect barricades and block routes for 'common' vehicles.
However, this symbol of influence and privilege is often used (or misused) by minor officials, mainly in smaller towns, who want to show off and boast of their position, according to reports in the Indian media.
"This is a central rule and the government is removing this rule from the rule book. Its abolition would mean that neither the Centre nor the States would have any dignitary that governments can nominate for the usage of red beacons," Jaitley said.
According to Road Transport Minister Nitin Gadkari, the ban "is a huge democratic decision."
"This government is a government of common masses and thus we have decided to abolish the VIP culture of beacon lights and sirens," he said.
Immediately after the red beacon ban was announced, Prime Minister Narendra Modi took to Twitter to hail the decision.
"Every Indian is special. Every Indian is a VIP," he wrote.
Earlier in April, Modi went to Delhi Airport to meet his Bangladeshi counterpart, Sheikh Hasina, "in normal traffic," according to reports in the Indian media. No traffic restrictions were imposed during his trip to the airport.
In the meantime, hashtag #EveryoneVIPinNewIndia has been trending on Twitter, with people calling the ban "historic".

Many politicians posted photos and videos on Twitter showing them removing red beacons from their vehicles.
Among them was Devendra Fadnav, chief minister of the state of Maharashtra in western Indian:
Union Minister for Women and Child Development Maneka Gandhi:
And Vijay Rupani, chief minister of India's westernmost state, Gujarat:
However, some politicians didn't wait for the official ban to remove their red beacons. Chief Minister of Delhi Arvind Kejriwal, who has repeatedly called for the ban, stated in 2015 that neither he nor his cabinet used the VIP symbol.
However, there were those who questioned the ban's importance, saying that it's hardly likely that government officials will change their "mindset just by removing red lights."
Others said the ban won't remove the "red beacon" from the minds of VIP politicians.