Bomb parts, AK-74 & ammo seized as 2 terrorist suspects 'neutralized' in Russia – FSB (VIDEO)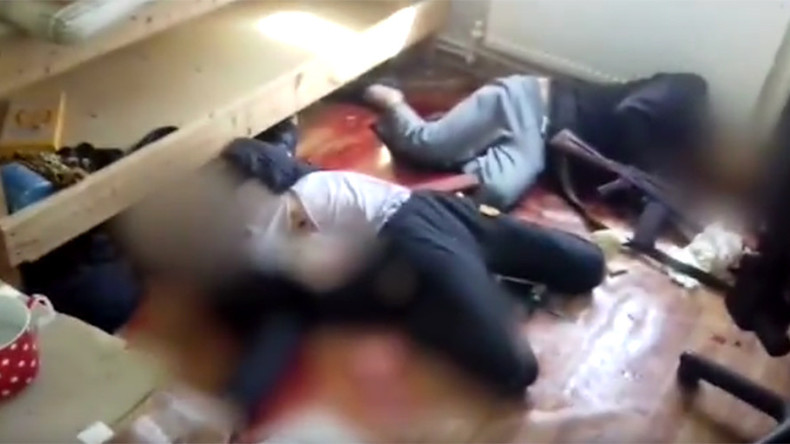 Two men who sympathized with international terrorist groups and planned attacks in Russia have been "neutralized" during a standoff with security forces, the Federal Security Service (FSB) said. Bomb parts as well as an AK-47 assault rifle with ammo were seized.
The special operation took place in Vladimir Region, some 190km from Moscow, the FSB said in a statement.
The agency's officers "neutralized" two citizens from the Central Asian region, born in 1991 and 1987, as "a result of a standoff during an attempted arrest," the press release noted. Both men showed "active armed resistance," the FSB stressed.
"Those persons were in contact with recruiters from international terrorist organizations, showed interest in the technology of producing improvised explosive devices, and expressed their readiness to commit terrorist attacks on the territory of Russia," the statement further reads.
During their search, officers seized components of improvised explosive devices, a Kalashnikov AK-74 assault rifle, a PM handgun and ammunition.
READ MORE: One organizer of St. Petersburg Metro bombing detained – FSB (VIDEO)
The FSB later released a video showing the suspects and the components of the explosive devices.
An investigation was immediately launched into the case.
On April 3, an improvised bomb went off in a subway train carriage of the St. Petersburg Metro. Fourteen people were killed and dozens injured in the blast.
Another explosive device disguised as a fire extinguisher was defused by a bomb squad at another station.
The suspect was later identified as 22-year-old Akbarzhon Dzhalilov, a Russian citizen of Kyrgyz origin. Russia's State Investigative Committee is treating the incident as a terrorist attack. It is also still unclear whether Dzhalilov set off the bomb or it was set off remotely.
Later in April, eight people were detained on suspicion of being involved in the St. Petersburg attack, the Russian Investigative Committee said. Six were arrested in St. Petersburg and two others in Moscow.
A police raid on the detained suspects' apartments found firearms, ammunition, and an improvised explosive device similar to the one found in the St. Petersburg Metro.
On Monday, the FSB detained a person suspected of being one of the organizers of the bombing. The man, identified as Abror Azimov, was detained near Moscow. However, he denied any direct implication in the attack, saying he merely carried out an order but did not realize it was part of a terrorist plan.