'Controversial & unfair': Turkish opposition files appeal for referendum annulment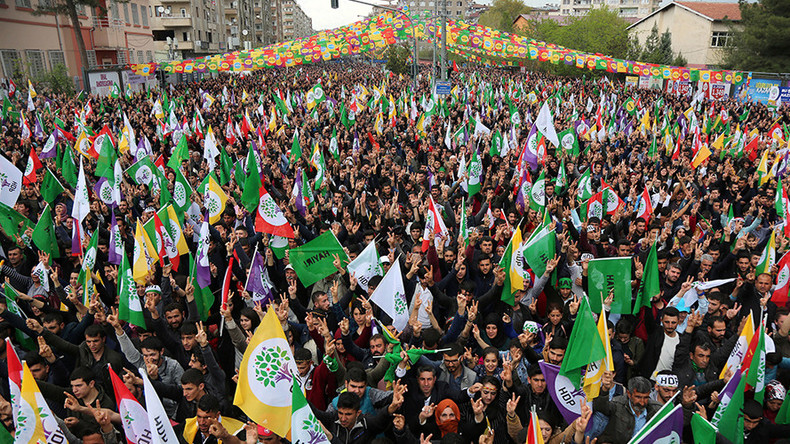 Turkey's pro-Kurdish opposition HDP party has filed an appeal for the annulment of the referendum which will grant President Erdogan sweeping new powers, citing widespread violations. Meanwhile, the prime minister has warned against street protests.
The deputy chairman of the Peoples' Democratic Party (HDP), Mithat Sancar, cited a number of alleged violations regarding the referendum. Those included the fact that numerous HDP leaders are still detained over alleged links to the Kurdistan Worker's Party (PKK).
Other alleged violations included the HDP's polling station monitors being rejected, and state resources being used in Erdogan's 'yes' campaign, Reuters reported.
Read more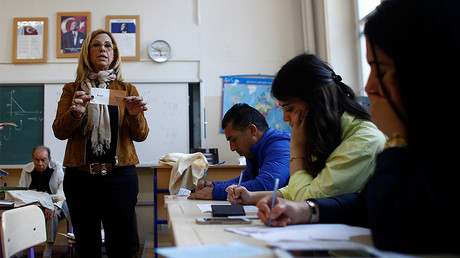 Sancar went on to state that the electoral board's last-minute decision to allow unstamped ballots had prevented proper record-keeping to occur, meaning it was now impossible to determine how many invalid or make votes may have been counted.
He also said that some voters had been unable to cast their votes in private.
"This referendum will forever remain controversial," Sancar told reporters on Wednesday. "You cannot build a change in the political system on such a controversial and unfair referendum."
The Sunday vote had an 85 percent turnout, with 51.4 percent voting 'yes' to allow for constitutional changes which will give President Recep Tayyip Erdogan sweeping powers when it comes to national matters of legislation, finance, appointments and civil society.
In particular, Erdogan will have the power to appoint and fire ministers, name half the members of Turkey's highest judicial body, hold the leadership of a political party while in office, and lead the country for the next 12 years, if he wins future elections.
In addition, changes to Turkey's executive branches will effectively abolish the position of prime minister, turning Erdogan's presidential role from a largely ceremonial one to an active one.
The HDP isn't the only party to file a request seeking the referendum's annulment due to voting irregularities. The deputy chairman of the opposition Republican People's Party (CHP) said on Tuesday that his party had done the same, and would use all legal paths to challenge the vote.
"We demand the cancelation of this referendum," Bulent Tezcan said, as quoted by AP.
Read more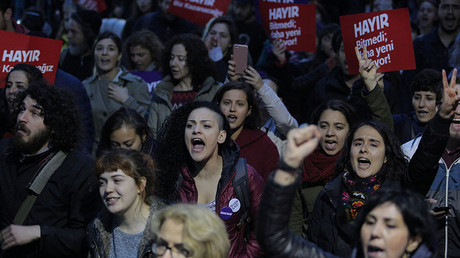 CHP party leader Kemal Kilicdaroglu also accused the electoral board of bias and favoring Erdogan's party.
Turkish Prime Minister Binali Yildirim said on Wednesday that opposition parties have a right to file objections to the referendum outcome, but said that "the main opposition party not recognizing the results is not an acceptable thing," referring to the CHP.
He went on to warn that calling for street protests is unacceptable.
"Calling people to the street is wrong and is outside the line of legitimacy," Yildirim said. He added that "we expect the main opposition party's leader to act more responsibly."
Thousands took to the streets of Istanbul on Monday evening to protest the results, with some holding banners which read "No has won," referring to the referendum's 'no' votes.
Hundreds of Turkish citizens also lined up outside election board offices in Ankara and Istanbul on Tuesday, to submit petitions requesting the board to reverse its declaration following the referendum results.
Meanwhile, observers from the Organization for Security and Cooperation in Europe (OSCE) and the Council of Europe also said earlier this week that "lack of equal opportunities, one-sided media coverage, and limitations on fundamental freedoms" had created an "unlevel playing field" in the vote.
Turkish Foreign Minister Mevlut Cavusoglu responded to the report earlier on Wednesday, saying it has "no reliability as their observations lack objectivity and are extremely partial."
Erdogan himself has told critics to "talk to the hand," adding that Turkey will not "see, hear, nor acknowledge" political reports on the matter.
The new system outlined under the constitutional changes will take full effect at the next election, slated for November 2019. However, numerous changes are expected to be implemented much sooner.