'Obi-Wan Mélenchon': Social media users mock French presidential hopeful's campaign hologram
Published time: 19 Apr, 2017 09:57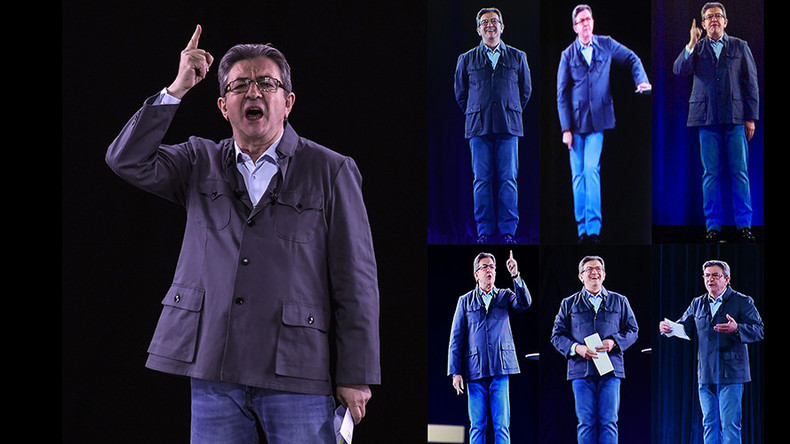 French presidential hopeful Jean-Luc Mélenchon used a hologram to make a campaign speech simultaneously in several cities. The stunt did not go unnoticed by social media users, who teased him for looking like Star Wars character Obi-Wan Kenobi.
Mélenchon used a technique called Pepper's ghost – an illusion dating back to the 19th century. It is a popular technique in theatres, TV, and concerts, and has been used by a number of celebrities like Dr. Dre, Snoop Dogg, and Michael Jackson.
The 'original' Mélenchon "in the flesh" was seen in the city of Dijon on Tuesday. His speech was broadcast live to six other places – Nancy, Grenoble, Montpellier, Clermont-Ferrand, Nantes, and Le Port commune in the French overseas department of Réunion.
An estimated 35,000 people watched the man – or rather, his hologram – speak in these seven cities, Ouest-France newspaper reported.
READ MORE: 'Start down the dark path you won't': Master Yoda asks French voters not to opt for Le Pen (VIDEO)
But what first comes to mind when you see it? Right – Jedi Master Obi-Wan Kenobi of Star Wars fame. The communist candidate's campaigning hologram was immediately mocked on Twitter.
"I'm sure that when he [Mélenchon] was a kid he dreamed of being Obi Wan," one person wrote.
"Victory to Obi Wan Mélenchon," wrote another person.
Some people on social media even compared his hologram to the one used by Princess Leia in the famous saga.
"I received a hologram which said: 'help me, Jean Jean-Luc Mélenchon, you are my only hope,'" one person wrote.
Some people were cynical regarding the idea of politicians not appearing 'in the flesh' for campaign rallies.
"People who applause the image. Seriously?!" one person exclaimed.
Others wondered why people would show up only to see a hologram of Mélenchon, when they could stay at home and watch the speech online.
"Why …get together in a hall to watch a virtual representation? It can be [watched] on TV," one person wrote.

READ MORE: French leftist Mélenchon launches presidential campaign with hologram (VIDEO)
Others, however, praised him for his fresh approach, saying that he uses the "technology of the future (although we know stems from the past)."
"He has a right to use best technology. Bravo," one person said, while another called him "a king of illusion."
The 65-year-old presidential candidate is currently fourth in the race, trailing independent Emmanuel Macron, far-right Marine Le Pen, and Republican François Fillon, according to an OpinionWay poll from April 18.
Melenchon is not the first politician to use this technology. Back in 2014, then-PM and current President of Turkey Recep Tayyip Erdogan also made use of a huge hologram of himself.