'My heart aches': Bangkok street food ban serves up social media outrage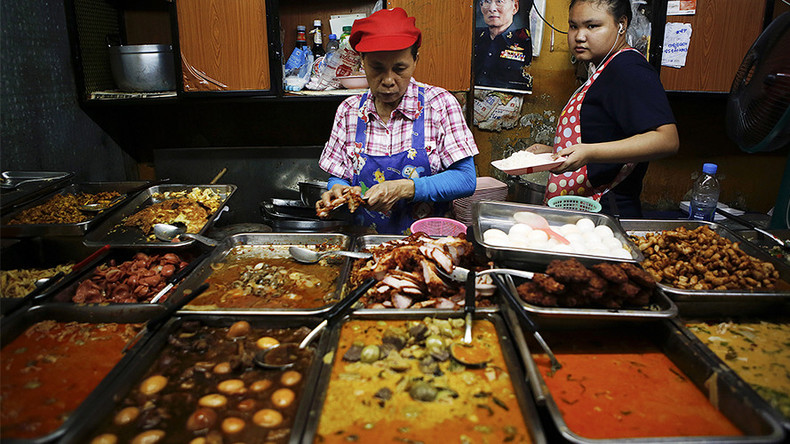 Bangkok is set to ban its famous food stalls, about a month after the Thai capital was named the world's best street food destination. Social media users are in despair over the move, saying the city "will not be the same."
"I think my heart actually started to ache reading this. Street food is the soul of Bangkok," one comment read.
The step is "yet another example of governing completely removed from the real world," others noted.
People also lamented that cheap meal options will be gone – Bangkok street food can cost as little as $1.
The online outcry was echoed by some officials too, including Sanga Ruangwattanaku, the president of a business association on Khaosan Road, a key tourist spot.
"If they go against the vendors, that will affect business and it will affect the charm of Khaosan," he told AFP.
Others cited sanitary issues that existed at the stalls, though.
However, the reason for the step seems not only to be poor hygiene, as city officials have claimed.
"All types of stalls including clothes, counterfeit goods and food stalls will be banned from main city roads," Walop Suwandee, chief adviser to Bangkok's governor, told AFP, citing "order and hygiene reasons."
Officials added that the stalls litter the streets, cause chaos and block pedestrian paths.
Over the last year, the Bangkok Metropolitan Administration evicted nearly 15,000 vendors from 39 public areas citywide.
Meanwhile, a Bangkok resident urged the city authorities to find a compromise and keep street food stalls in the Thai capital.
"The BMA [Bangkok's Metropolitan Administration] should set up a zone for the street vendors, so they can keep their jobs and preserve the charm of Bangkok's street food," Romdheera Phruetchon told the Nation.
The step comes shortly after CNN named Bangkok the world's finest foodie destination, for the second year.
The media outlet's report said that it was "impossible to avoid street food in Bangkok," adding that "some take care of the breakfast crowd with sweet soymilk and bean curd, others dish up fragrant rice and poached chicken for lunch" and "the late-night crowd offers everything from phad thai noodles to grilled satay."
You can share this story on social media: