Le Pen vows to challenge 'savage globalization' in final push ahead of French presidential vote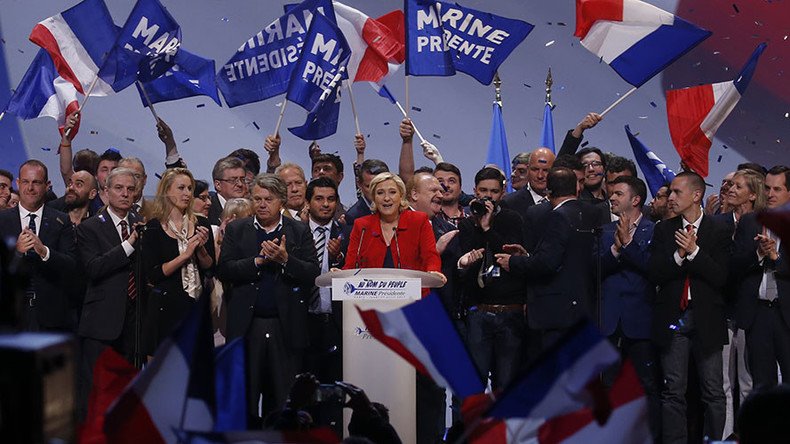 Following attempted disruptions of her rally by anti-National Front protesters and a FEMEN activist, France's presidential hopeful Marine Le Pen reinforced her promises to defend the French from the woes of the globalized world, including uncontrollable migration.
READ MORE:Tear gas & smoke grenades as police face off with protesters ahead of Le Pen rally (PHOTO, VIDEO)
Speaking at a rally in northeast Paris on Monday, Le Pen did not mince her words when denouncing migration as a "tragedy for France" rather than an opportunity.
If elected president, the far-right politician promised to lead France out of the chaos to which she said it risks due to its "porous" borders.
"I will protect you. My first measure as president will be to reinstate France's borders," Le Pen announced, claiming that mass migration resulted in foreigners' feeling more at home in France than French citizens themselves.
"The French sometimes have fewer rights than foreigners – even illegal ones," she said.
Rounding up support for her anti-EU and anti-globalist cause less than a week before the French head to the polls, Le Pen described the choice the people face as the one "between a France that is rising again and a France that is sinking."
She then slammed her rivals for being proponents of "savage globalization."
As Le Pen spoke, however, a FEMEN protester leaped onto the stage, throwing a bunch of flowers at the politician and briefly baring her breasts before being grabbed and carried away by security guards.
Le Pen says she would radically change the course of France in Europe, exiting the Schengen agreement and the Eurozone once in the Elysee Palace.
"I want to give France its freedom back, I want to take it out of jail," she said.
At a rival rally held by centrist candidate Manuel Macron, who is projected to emerge as Le Pen's main opponent on Sunday and in the potential runoff on May 7, the sentiment could be described as the entire opposite.
"We need Europe, so we will remake it. I will be the president of the awakening of our European ambitions," Macron said, addressing his supporters.
The pro-EU views of the former investment banker and the election race current frontrunner Macron do not find sympathy among Le Pen's electoral base, however.
"Macron is a pure marketing product," Reuters quoted Veronique Fornilli, a National Front activist, as saying, adding that only Le Pen "can put France back in order."
The heated atmosphere in the French capital, which seems to be consumed by the presidential campaign, led to violent clashes outside the Zenith concert hall, where Le Pen amassed her supporters.
Police, deployed to the scene to prevent scuffles, resorted to tear gas to fend off anti-Le Pen protesters who were hurling rocks, chunks of wood and smoke grenades at police. According to RT's correspondent at the scene, Charlotte Dubenskij, some journalists also suffered after being caught up in the ruckus.
While Le Pen is hot on the heels of Macron, winning 23 percent of the vote versus 24 percent for Macron in Sunday's vote, according to the latest L'Express poll, a large-scale campaign has been waged by pro-EU politicians within and outside France to discourage voters from opting for the National Front candidate.
On Sunday, German President, Frank-Walter Steinmeier, seemingly interfered in the French election campaign, urging voters "not to listen to the siren songs of those who promise you a great French future after getting rid of all that is part of France today – guaranteeing European stability and being a pillar of the European Union," in an apparent reference to Le Pen's rhetoric.
France' hugely unpopular outgoing President Francois Hollande earlier called the perspective of Le Pen's victory a "threat" and described his intention to stop her from winning France over with her anti-EU agenda his "ultimate duty."
READ MORE: Hollande's 'ultimate duty' is to ensure France won't choose Le Pen – French leader to media
In a bid to alienate voters from Le Pen, her opponents have enlisted the help of such unconventional allies as Master Yoda, Harry Potter, Asterix and Aladdin. The fictional characters appeared on posters plastered in 17th arrondissement of Paris on Monday, warning voters among other things against "starting down the dark path" and "don't put her [Le Pen's] name on the ballots."
You can share this story on social media: