'Era of strategic patience' by US towards N. Korea is over – Pence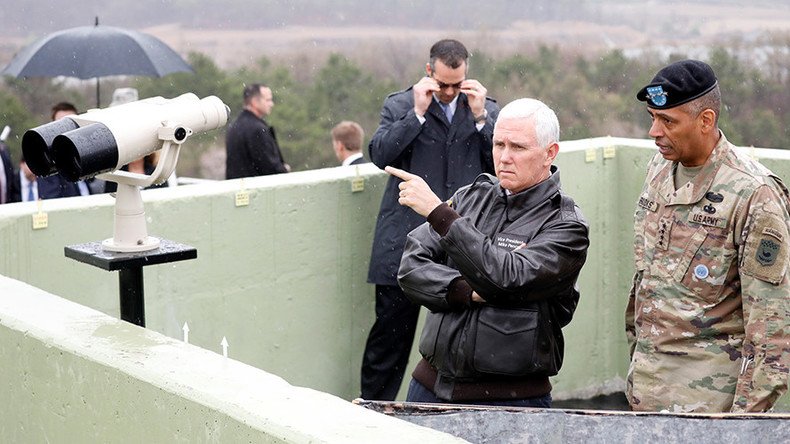 US Vice-President Mike Pence announced the "end of strategic patience" towards Pyongyang, adding that "all options are on the table."
Pence spoke on Monday while visiting the 4km-wide heavily-mined demilitarized zone separating the two Koreas.
"President Trump has made it clear that the patience of the United States and our allies in this region has run out and we want to see change," Pence told reporters. "We want to see North Korea abandon its reckless path of the development of nuclear weapons, and also its continual use and testing of ballistic missiles is unacceptable."
The comments came a day after a new North Korean missile launch which, according to the South Korean and US militaries, failed. Despite the reported failure, the missile launch was perceived as a test of Trump's resolve to press Pyongyang further into abandoning the nuclear and missile programs.
Pence praised the "historic, iron-clad alliance" between the US and South Korea, not ruling out a military solution of the Korean standoff.
"All options are on the table to achieve the objectives and ensure the stability of the people of this country," said Pence, while adding that Trump would not discuss specific military tactics.
Pyongyang has repeatedly urged Washington to stop its "military hysteria" and come to its "senses" – or otherwise face a merciless response if the "provocations" against North Korea continued. Washington sent the aircraft carrier group 'USS Carl Vinson' along with other military hardware in an apparent attempt to show force and in preparation for "all options."
READ MORE: N. Korea to strike US bases in Asian Pacific & S. Korean presidential palace if US attacks – KCNA
"The closer large targets, such as the nuclear carrier, come to our shores, the more effective will be our devastating strike," the North Korean Defense Ministry said, according to various media reports.
You can share this story on social media: