N. Korea blasts US 'military hysteria & aggression' in Syria, vows to mercilessly foil provocations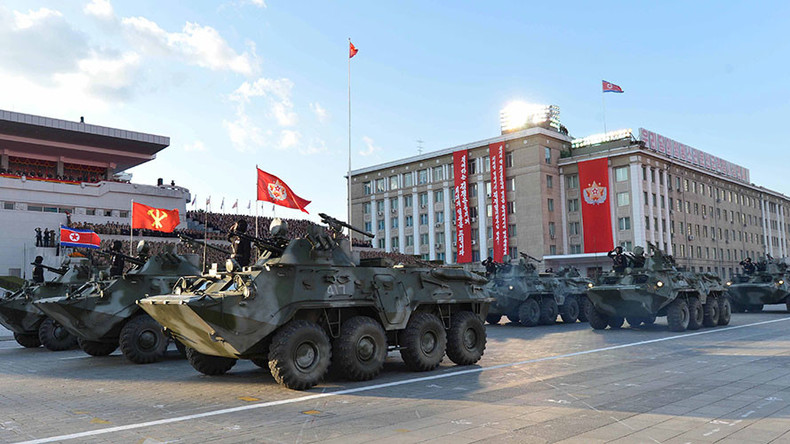 Pyongyang has called the US cruise-missile strike against Syria a war crime, urging Washington to stop its "military hysteria" and come to its "senses" – or otherwise face a merciless response in case of any provocations against North Korea.
"The US should be punished according to international law as its military attack on Syria was an undisguised act of aggression and war crime," a spokesman for the Korean Jurists Committee said in a statement cited by KCNA.
Simultaneously, on Friday, a spokesman for the General Staff of the Korean People's Army (KPA) issued a statement claiming that following the unilateral strike against Syria, Donald Trump's "serious military hysteria" has reached a dangerous phase where the DPRK will be forced to respond against the US and its allies in such a "merciless manner as not to allow the aggressors to survive."
"The US used aggression and war as a lever for carrying out its policy in disregard of international law. It made missile attacks on the countries incurring its disfavor in wanton violation of their sovereignty," the statement by North Korean lawyers added.
"The international community should never tolerate the US attack on Syria but mete out a due punishment to the harasser of peace," it added.
According to the legal team, the April 7 strike, which saw the US launch 59 Tomahawk cruise missiles against Syria's Shayrat Air Base, "constitutes an act of aggression and a war crime definitely specified by the Nuremberg Military Tribunal."
The condemnation of the US Syrian strike coupled with an appeal for sensibility by Pyongyang comes amid well founded fears that Washington might strike North Korea next.
On Thursday, Donald Trump who has engaged vigorously with China on the North Korean nuclear issue, said Pyongyang is a problem that "will be taken care of."
While refusing to specify how and when, Trump has ordered significant military buildup on the Korean Peninsula, sending an "armada" of vessels and promising to act unilaterally if China is unwilling to help.
Also on Friday, China's foreign minister, Wang Yi, warned that tensions between the US and North Korea had escalated to such a point that "a military conflict may start at any moment."
In order to avert an all-out war, North Korea's General Staff urged the US "to come to its senses and make a proper option for the solution of the problem."
The General Staff warning came as North Korean Vice Foreign Minister Han Song Ryol told AP that DPRK won't hesitate to go to war if provoked. Stating that United States was "becoming more vicious and aggressive" under President Trump, Han vowed, "we will go to war if they choose."
"If the US comes with reckless military maneuvers, then we will confront it with the DPRK's pre-emptive strike," Han said.
Unease over North Korea is growing with fears that Pyongyang may soon conduct a sixth nuclear test, possibly to coincide with 105th anniversary celebrations of the birth of Kim Il-sung, North Korea's founding father and grandfather of the current ruler, Kim Jong-un.
You can share this story on social media: