ISIS launches 2nd chemical attack in Mosul in 2 days, injures 6 Iraqi soldiers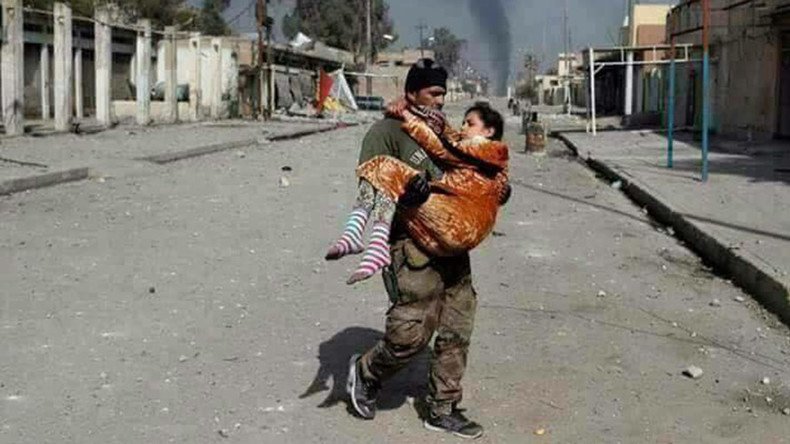 At least six Iraqi soldiers have suffered inhalation problems following a chemical attack launched by Islamic State on Sunday. This is the second time in two days that the terrorists have used chemical agents to push back government forces in Mosul.
The chemical attack on Sunday occurred in a recently-liberated area of Mosul, where the Federal Police and Rapid Response forces are advancing towards the old city which is still roaming with Islamic State (IS, formerly ISIS/ISIL) jihadists.
The spokesman for the Joint Operation Command in Iraq, Brigadier General Yahya Rasool, told the Associated Press that six soldiers suffered "breathing problems" from the attack.
The victims are now being treated at a field clinic, the spokesman added. An investigation has been launched to determine what type of gas was used.
Meanwhile, security sources told the AhlulBayt News Agency that missiles were loaded with chlorine and were fired at the al-Abar neighborhood.
This is the second time in as much days that IS terrorists have used chemical weapons in an effort to stop government troops' advance on the old city.
"The Daesh terrorist gangs tried to block the advance of our forces by using shells filled with toxic chemical material, but the effect was limited," Iraq's Joint Operations Command said in a statement, referring to Saturday's incident on their Facebook page.
The statement added that the attack on Saturday did not cause any deaths, only "limited injuries" to an unspecified number of troops who were immediately treated after being evacuated from the area.
Officers in Iraq's Federal Police told Reuters that the chemical weapons agents were fired from the Urouba and Bab Jadid districts on Saturday.
Some 400,000 people are trapped in the area controlled by extremists, as Iraqi forces make slow progress in liberating the rest of the city from the jihadists.
The initial operation to liberate Iraq's second largest city began exactly six months ago on October 16.
After securing the eastern part of the megapolis earlier this year, fighting in heavily populated west Mosul was expected to turn into a tough challenge for Iraqi forces due to the city's narrow alleyways and streets which does not allow for armored vehicles and tanks to go through.
While coalition forces have been reporting on their military advances, civilian casualties have been piling up – both at the hands of terrorists and sometimes as a result of indiscriminate shelling by the US-led coalition.
International human rights groups, as well as the Russian Foreign Ministry have warned that the humanitarian plight in war-torn Mosul has "escalated to the limit." Iraq's president has described it as a "full-on catastrophe."
You can share this story on social media: