70mn yo dinosaur eggs with embryos inside unearthed in Argentina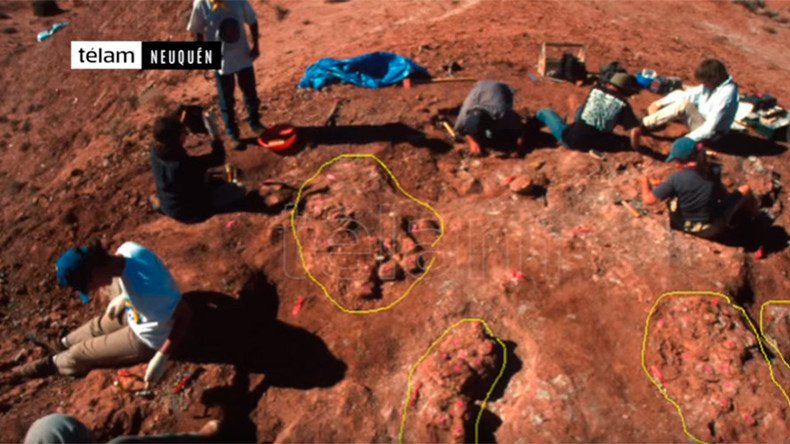 Archaeologists in Argentina have announced the discovery of several dinosaur eggs – believed to be nearly 70 million years old and with the remainders of its embryos.
The eggs were found several years ago at a site called Auca Mahuevo in the southern region of Patagonia by a shepherd, but the find was only made public this week by local Cultural Heritage Director, Claudia Della Negra, Argentina's Telam news outlet reported.
"Auca Mahuevo is a site where dinosaur eggs appear in nests along with the remains of the animals that ate them," Della Negra explained.
This is not the first time the site yielded such a pleasant surprise, as in 1997, similar eggs were located there.
The official added that Argentinian authorities are planning to create a paleontological park in the area which would be visited by tourists. "The priority, however, is to preserve this site for future generations."
"The site was a swamp that at the time was covered with water and... sediment covered and drowned the embryos inside the eggs. The other sediment came from the Auca Mahuida volcano eruption ten million years later," she added.
"The research received contributions from National Geographic, CONICET and Zaragoza (Spain) to do the analysis of the materials."
Della Negra noted that the new finding is of high value to scientists who have already examined the embryos' skin and teeth.
The study may provide new insights into the development stages of the gigantic reptiles that once populated the Earth.
Auca Mahuevo is more than 70 million years old and is monitored by the people living in the area and security guards.
READ MORE: T-Sex: Dinosaur foreplay uncovered in new research
In 2014, a skeleton of Argentinosaurus, believed to be the biggest dinosaur on Earth, was also found in Patagonia. The area is literally a fertile field for archaeological diggings.
The enormous creature weighed as much as 14 African elephants (around 77 tons), was 40m (130ft) long and 20m (65ft) tall.
READ MORE: Jurassic highway: Thousands of dino footprints uncovered, including rare stegosaurus tracks (VIDEOS)
Some 150 bones were excavated in "remarkable condition."
By the end of the dig, the number of bones went up to 223 which were said to have belonged to seven specimens.
In 2016, a fiberglass replica of Argentinosaurus's skeleton was showcased in New York's American Museum of Natural History.
You can share this story on social media: