UN convoy hit by blast in Mogadishu, Al-Shabaab claims responsibility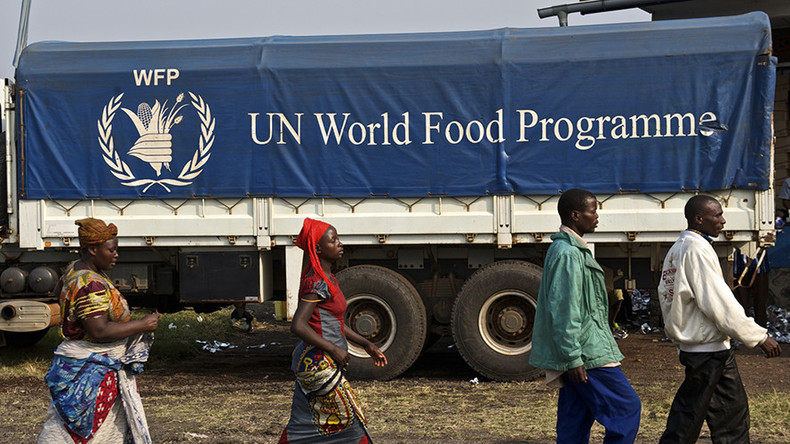 Two private security guards were wounded by a reported roadside bomb that hit a UN convoy in Mogadishu on Sunday.
The explosion struck 100 meters behind vehicles belonging to the UN's World Food Programme (WFP), as workers returned from a drought-affected area on the outskirts of the Somali capital.
"We are investigating the incident including whether or not the convoy was the intended target," spokesperson for the WFP Amor Almagro told RT. The two Somali security guards suffered minor injuries, Almagro said.
"We are also concerned about the welfare of innocent bystanders who may have been harmed by the blast," she added.
The militant Islamist group al-Shabaab has reportedly claimed responsibility for the attack.
Explosion 100m behind moving @WFP convoy in #Mogadishu today. Staff+journalist in WFP vehicle = safe; 2 security escorts slightly wounded.

— WFP Media (@WFP_Media) April 16, 2017
"The occupants of the WFP vehicles are all safe although two private security guards were slightly wounded," Almagro told RT. The occupants of the WFP vehicles were uninjured, with the two private security guards suffering only minor injuries.
BREAKING: Al Shabab claims the responsibilty of a roadside explosion which targeted WFP convoy near Shabelle University- Andalus radio.

— Hussein Mohamed (@HussienM12) April 16, 2017
Earlier this month, dozens of US troops arrived in Somalia as part of an operation to train forces fighting al-Shabaab, the largest deployment of US troops to the country since 1993 when 18 US soldiers died in a battle dramatized in the film 'Black Hawk Down.'
READ MORE: US army makes largest deployment of troops to Somalia since 'Black Hawk Down'
You can share this story on social media: