Doubts over Dortmund bomb blast motive remain as left, right wing groups claim responsibility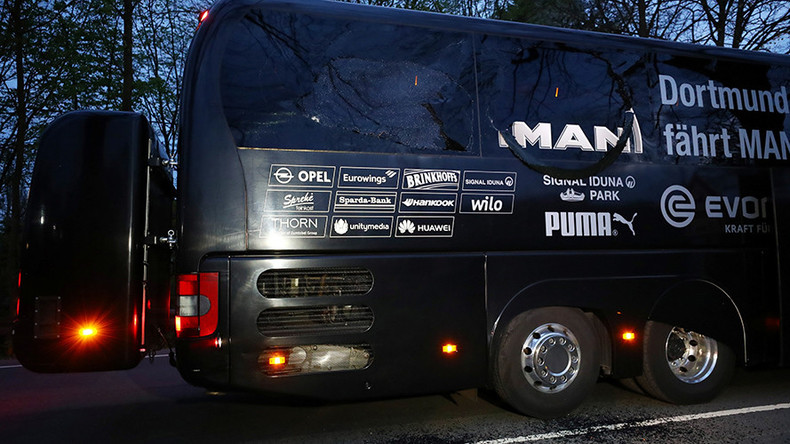 Federal investigators have yet to definitely determine who was responsible for Tuesday's triple bomb attack on the Borussia Dortmund soccer team bus, though strong doubts have been raised over possible Islamic terrorist involvement.
Three identical letters found at the scene of the bomb blasts claimed the attack was carried out "in the name of Allah," but have been treated with skepticism by both investigating police and prosecutors.
The wording of the three identical letters immediately raised suspicions as they do not fit the MO of extremist terrorist groups such as Islamic State (IS, formerly ISIS/ISIL).
READ MORE: Football fans united by #BedForAwayFans campaign in face of Dortmund bomb attack
Specific threats to sportspeople and other celebrities as well as demands for the closure of Ramstein Air Base and the withdrawal of German planes from Syria stood out as atypical to federal prosecutors investigating the case.
The wording and target choice have prompted speculation that the letters were decoys intended to deflect attention away from the real perpetrators.
"It is indeed doubtful," Frauke Koehler, a spokeswoman for the federal public prosecutor's office, said when asked to comment on the authenticity of the letters as cited by Sky News. She would not make any further comment on the matter as the investigation is ongoing.
READ MORE: Iraqi arrested in connection with Dortmund bus attack led ISIS unit – German prosecutors
A 25-year-old Iraqi with alleged 'Islamist links' has been arrested in connection with the attack but police have yet to state unequivocally if he is being charged or if he's the only suspect in the case.
The German newspaper, Tagesspiegel, claims to have received an anonymous email from a far-right group also claiming responsibility for Tuesday's attack which left Spanish defender Marc Bartra with a broken wrist and led to one police officer being treated for shock.
The emailed note allegedly claimed there would be another attack on Saturday, April 22 with the threat being investigated by German federal prosecutors.
The message reportedly criticized the German government's stance on multiculturalism, references Adolf Hitler, and claims a "Cologne squad" is poised to spill "colorful blood." This may be a specific reference to a pro-tolerance rally scheduled to take place in Cologne next week, reports DW.
READ MORE: Muslims should accept European values or go elsewhere – German minister
Investigators also received a claim of responsibility from a far-left group but have dismissed it as inauthentic.
Further intrigue has emerged in the case, as the detonators used in the attack were allegedly military-grade, reports Reuters citing a source close to the investigation.
"The technically perfect construction of the explosive devices in Dortmund, which could have attacked any vehicle on any other road in Germany, is really worrying," Bavaria's Minister of the Interior, Joachim Herrmann, told local German news outlet Welt am Sonntag.