Pyongyang parades new ICBMs & submarine-based missiles in founding leader's honor (PHOTOS, VIDEO)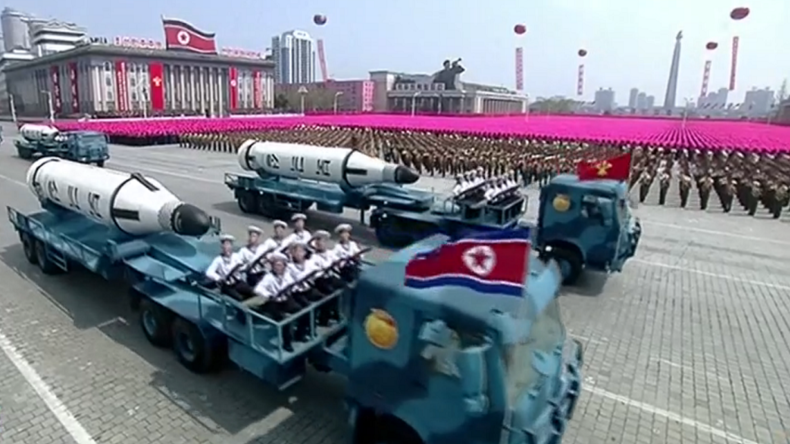 Amid regional "military hysteria," North Korea has marked the 105th birth anniversary of its founding leader Kim Il-sung with a military parade in Pyongyang, where it for the first time publicly showcased its submarine-launched ballistic missiles as well as what appears to be a new type of ICBM.
The country's hereditary leader Kim Jong-un, wearing a black suit and white shirt and a tie, welcomed his country's bravest as he addressed thousands of soldiers who took part in the parade honoring his grandfather.
Under the clear sky and to the sound of the military band, dozens of military vehicles and an entire army of soldiers passed through the country's biggest square named in honor of Kim Il-sung, whose 105th birthday is being celebrated on Saturday.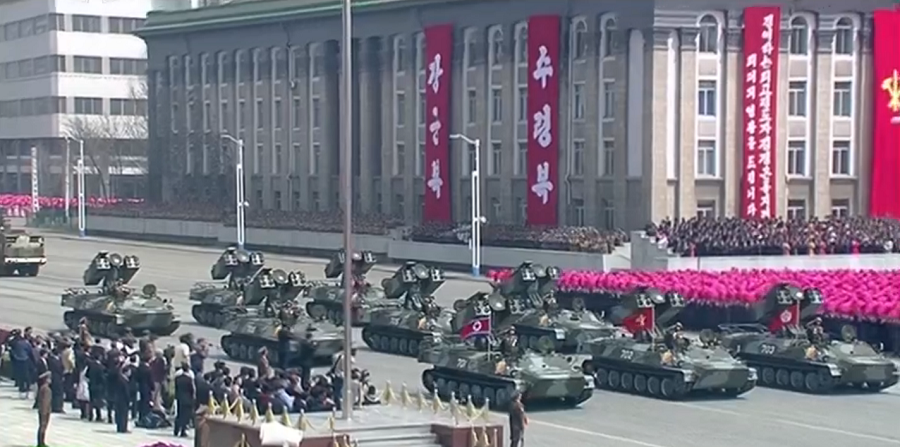 State TV showed images of the Pukkuksong-2 submarine-launched ballistic missiles (SLBMs) on trucks for the first time as the country continues to pursue an aggressive military and nuclear deterrent policy.
READ MORE: N. Korea blasts US 'military hysteria & aggression' in Syria, vows to mercilessly foil provocations
North Korea in February claimed that it successfully test-fired a surface-to-surface "medium long-range ballistic missile" known as the Pukkuksong-2, which is potentially capable of carrying a nuclear warhead.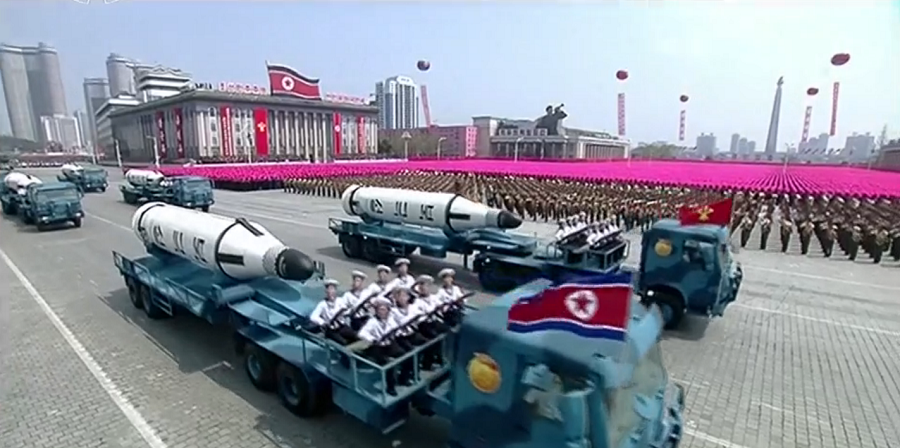 North Korea also paraded what appeared to be a new intercontinental ballistic missile (ICBM).
"It's presumed to be a new ICBM. It seems longer than the existing KN-08 or KN-14 ICBMs," South Korean military official told Yonhap.
Choe Ryong Hae – believed to be the second-most powerful official in the country – in his address to the soldiers during the parade, blamed Donald Trump for "creating a war situation" in the Korean Peninsula promising to respond with all out war to US aggression.
"We will respond to an all-out war with an all-out war and a nuclear war with our style of a nuclear attack," Choe warned, according to AP, during the parade.
The country's biggest national holiday called the "Day of the Sun" came amid growing speculation that Pyongyang could conduct its sixth nuclear test. Amid growing tensions with the US President Donald Trump who promised to "take care" of North Korea, the communist officials told foreign journalists on Tuesday that a "big and important event" is expected to take place.
But on Thursday amid much hype and secrecy, the North Korean leader surprised the press by showcasing a new skyscraper-lined street in Pyongyang.
"Ryomyong Street is an accomplishment that the North wants to promote on the economic front," an official at Seoul's unification ministry, told South Korean Yonhap news. "It may hope to show something to display its nuclear and missile capabilities."
Ahead of Saturday's festive parade, Pyongyang urged Washington to stop its "military hysteria" and come to its "senses" – or otherwise face a merciless response in case of any provocations against North Korea.
As tensions heighten in the peninsula, China's foreign minister, Wang Yi, warned that confrontation between the US and North Korea had escalated to such a point that "a military conflict may start at any moment."
You can share this story on social media: