Morbid fascination or genuine distress? Google searches for 'World War 3' at record high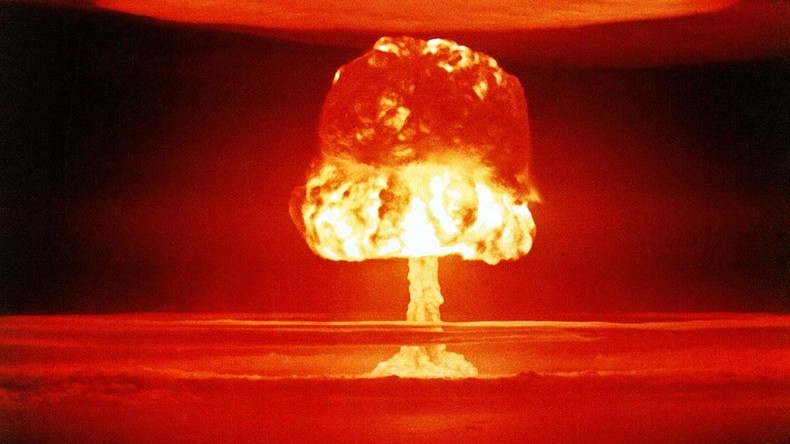 An increasing number of people around the world seem to be preoccupied with thoughts of a global military conflict, as amid growing tensions in the international arena the number of web searches for 'World War 3' has hit the highest level ever.
The number of 'World War 3' Google searches is at a high unseen since records started in 2004, according to Google Trends, the service that monitors search requests.
The interest by region statistics shows that the US, the UK, Australia, Canada and Pakistan are in the top 10 countries where citizens are looking for information about a potential global conflict. Perhaps oddly, the Philippines tops this list.
The new peak dwarfed the previous massive surge of interest in this topic that followed Turkey downing a Russian Su-24 bomber over Syria in November 2015.
The service shows that the number of other war-related searches is also on the rise. Searches for 'war' and 'nuclear war' are at the highest levels since the start of the year, and the number of searches related to these topics continues to rise while the number of people searching for 'Syria war' has also reached a peak over the past 12 months.
The phrase 'going to war' also spiked to a record high recently, trumping its previous peak in August 2013, when then US President Barack Obama was considering military action against the Syrian government after reports of a chemical attack in Eastern Ghouta.
The spike in interest towards most war-related topics came just a day after current US President Donald Trump took the decision to launch cruise missiles against a Syrian military base, following a chemical weapons incident in Idlib province.
Russia denounced the US attack as "highly provocative" and said it would insist on an independent international investigation of the chemical weapons incident. Later, Russia, Syria and Iran condemned the attack as an act of international aggression.
At the same time, Russian Foreign Minister Sergey Lavrov said that he agreed with US Secretary of State Rex Tillerson that "a similar [strike] should not occur again."
Searches for 'nuclear war', however, are still trending amid the growing tensions around the Korean Peninsula. On Friday, Chinese Foreign Minister Wang Yi warned that a war in the region could break out "at any moment."
READ MORE:New Korean War may break out 'at any moment' – Chinese FM
The US carrier strike group led by the 'USS Carl Vinson' is heading towards the region, as Trump threatens to "take care" of the North Korean "problem" and Pyongyang says it is ready to repel any military action.
People aren't just googling World War III, either. Many are voicing their fears on social media.
Others are desperately trying to spell out the catastrophic consequences that such a conflict could bring.
While others are grimly preparing for the worst.