Bake bread not war: Russian military helps Syrians restore Aleppo bakery (VIDEO)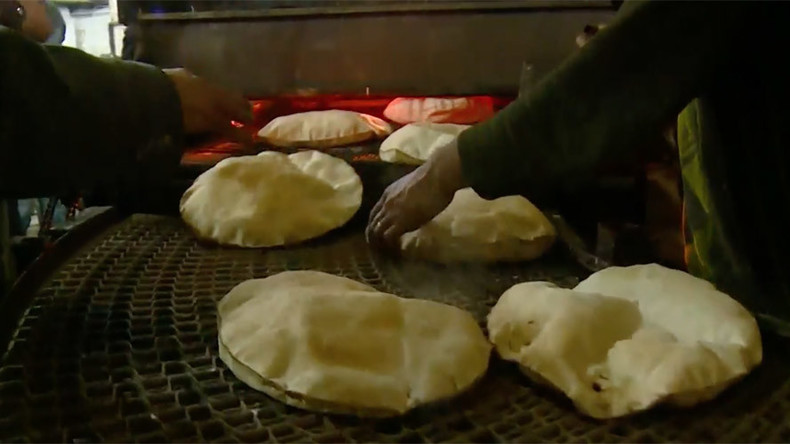 In Aleppo, where relentless fighting between the Syrian Army and Islamist militants ended only two months ago, the Russian military has helped local authorities restore a large bakery, setting hopes for a slow but steady recovery for the war-ravaged city.
Until recently, most Aleppo residents have been heavily dependent on food deliveries provided by aid organizations and Russian military's reconciliation mission to Syria. With food and water supplies still scarce, there are many civilians who rely on humanitarian assistance coming from outside.
Local authorities, assisted by the Russian military, are now restoring a large bakery in the Kadi Askar district, previously held by a mishmash of different Islamist groups, including Islamic State (IS, formerly ISIS/ISIL) and Al-Nusra Front.
The bakery, filmed by RT's Ruptly video news agency, was deliberately destroyed by militants, said Omar Azet, head of Kadi Askar district. Fortunately, its baking machines – said to be able to produce up to 40 tons of bread per day – were brought back to operation, but much effort will be needed to refurbish the whole interior.
As a bulldozer removed rubble, the bakery workers sent the first batch of bread – soft, flaky Arabic pastries – into the oven. At the first stage, the facility will produce some 13 tons of bread, which the authorities say will be distributed among people returning to their homes in eastern Aleppo.
As a sign of respect and companionship Syrian hosts offered fresh-baked pastries to Russian soldiers.
"This bakery was the biggest one in eastern Aleppo," Azet explained.
"After the liberation of eastern Aleppo, we are restoring this bakery as well as many others. The main objective now is to collect garbage, clean everything from debris and make technical repair of the production line."
Bread has always been a symbol of peace, even in times of war. For people in Aleppo, it means that life – slowly but steadily – is coming back to normal.
Aleppo, once Syria's largest city with thriving businesses and diverse industrial facilities, was liberated by the Syrian Army in December last year, marking a potential turning point in the six-year civil war. Prior to the major ground offensive on eastern Aleppo, several 'humanitarian corridors' were set up, allowing safe passage for both civilians and rebels.
Once the city was cleared of militants, Russian bomb disposal units entered the area to seek explosive remnants of war.
Food, drinking water and sanitation were also provided by the Russian military and aid organizations on regular basis. But as Syria has entered the seventh year of war, the plight of civilian population remains dire in many parts of the country.
According to UN figures, 13.5 million Syrians are in need, 6.3 million were displaced, while another 4.7 million are living in hard-to-reach and besieged areas.