HELP! French farmer mows 'message of despair' in wheat field
Published time: 14 Apr, 2017 11:47
Edited time: 15 Apr, 2017 08:39
A French farmer has mown the giant letters HELP into his wheat field, hoping presidential candidates will handle the agricultural sector crisis. He says the authorities are "deaf" to farmers' anger, but hopes they won't be blind to his "message of despair."
"Political leaders do not listen to us," Jacques Fortin from Athée-sur-Cher commune in central France told AFP. "They're deaf to our anger. I hope they're not blind and will read this message of despair."
READ MORE: Merde! Protesting French farmers dump tons of manure at govt buildings (VIDEO)
The 63-year-old farmer says that he now lives in the world where he has "the responsibilities of a chief executive," but lives "below the poverty threshold."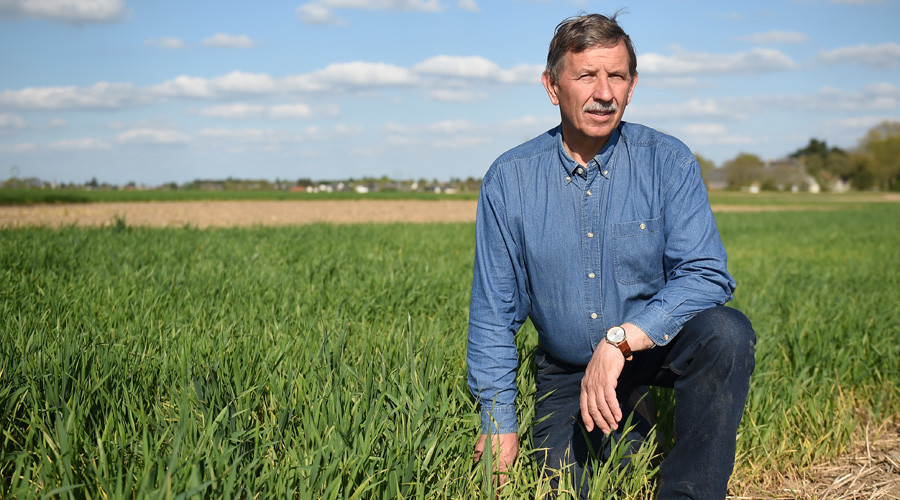 "It's not normal to live with €350 [US$372] a month when you work every day... Some break down. Others commit suicide," he added. The national poverty threshold in France is €800 per month.
Thus, he has mown a huge message to the authorities – the letters HELP which measure 100 meters long by 48 meters wide in his 5-hectare wheat field. The message comes days before the first round of presidential elections that will take place April 23.
READ MORE: 'You're killing us': French farmers dump manure, block roads to protest low meat & milk prices
"When they pass overhead, airliners start to descend to Orly [international airport in the south of Paris]. Passengers can see my SOS," said Fortin, adding that the message is a "collective SOS", expressed on behalf of all farmers.
"We have had successive years of bad weather conditions in the past four years. Farmers are at the end of their rope. They are fed up," he said.

In 2016, the French government admitted that some 40,000 farms were in a "situation of extreme urgency."
Farmers have repeatedly staged protests, calling upon the government to improve conditions in the agricultural sector. In March, some 20 farmers drove their tractors to a meeting with presidential candidate Francois Fillon.
"We need support and proposals from the candidates, because so far we haven't had much of either," dairy farmer Julien Hindre told AFP at the time.
In January, French farmers joined a mass protest in Brussels and sprayed a ton of powdered milk at the build of the European Union Council in the EU capital.
Numerous farmers' protests rocked the country in 2014-2016, decrying low prices of agricultural products. The prices were driven down in part by the 2014 Russian import embargo, which caused the domestic products flood the national market.
Some of the demonstrations turned violent with protesters burning tires, blocking roads and dumping tons of manure at government buildings.