2,000 allegations of sexual abuse against UN peacekeepers in 12 years – report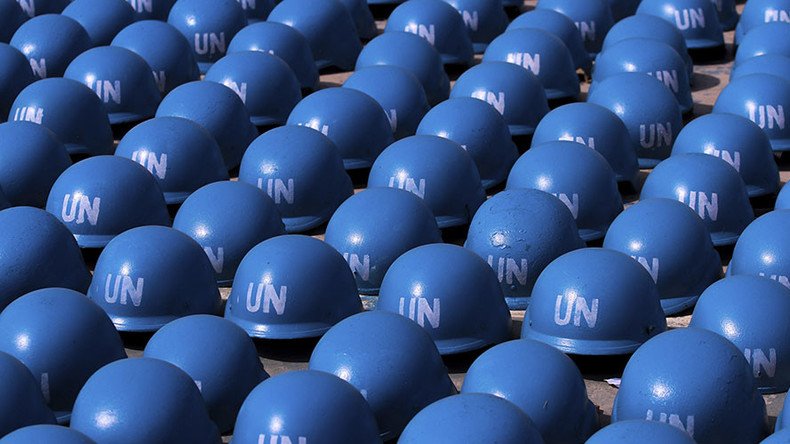 As the United Nations continues to "grapple" with sexual exploitation by members of its ranks, the Associated Press says it has uncovered 2,000 allegations of abuse against personnel working as peacekeepers.
An AP investigation, drawing on internal UN reports and testimony from victims, states that nearly 2,000 allegations of sexual exploitation have been levelled against peacekeepers worldwide in the past 12 years.
The investigation uncovered more than 300 allegations involving the sexual abuse of children, some as young as 12.
READ MORE: 'More important than ever': RT starts broadcasting within UN HQ
A number of allegations stem from field missions in Haiti, where, according to AP, 134 Sri Lankan peacekeepers operated a sex ring between 2004 and 2007, involving nine children.
Peacekeepers from Bangladesh, Brazil, Jordan, Nigeria, Pakistan and Uruguay were also implicated in abuse cases, with some abusers said to have coerced victims into performing sexual acts, using food and money in a number of locations around the world. In some cases the abuse is said to have taken place in UN branded trucks.
The AP report states that "only a fraction of the alleged perpetrators served jail time."
The report comes a month after UN Secretary General António Guterres admitted that the organization "continues to grapple with the scourge of sexual exploitation and abuse, despite great efforts over many years to address it."
Announcing a new "victim-centered strategy" to combat sexual exploitation in March, Guterres said the UN "will not tolerate anyone committing or condoning sexual exploitation and abuse."
BREAKING: AP investigation finds about 2,000 allegations of sexual misconduct, exploitation against UN peacekeepers and personnel.

— The Associated Press (@AP) April 12, 2017
"We will not let anyone cover up these crimes with the United Nations flag. Every victim deserves justice and our full support," he added.
A United Nations factsheet on conduct says it is "crucial that allegations of sexual exploitation and abuse are investigated thoroughly and in a timely manner."

READ MORE: US exit from United Nations could become reality with fresh bill
It states that last year 103 allegations of sexual exploitation and abuse were reported in field missions, 47 percent of which occurred before 2016.
To "ensure that only individuals with the highest standards of integrity" are hired, the UN says it has increased the number vettings per month from 208 in 2008 to 8,000 in 2017.
Meanwhile, the average time taken to appoint national investigation officers for abuse cases has been cut from 79 days to eight days since 2012, according to the UN.
A UN mission to stabilize Haiti following a coup has been in place since 2004. Missions are dependent on contributions from UN member states.
RT.com has contacted the UN for comment on the allegations put forward in the AP report.
You can share this story on social media: