'More important than ever': RT starts broadcasting within UN HQ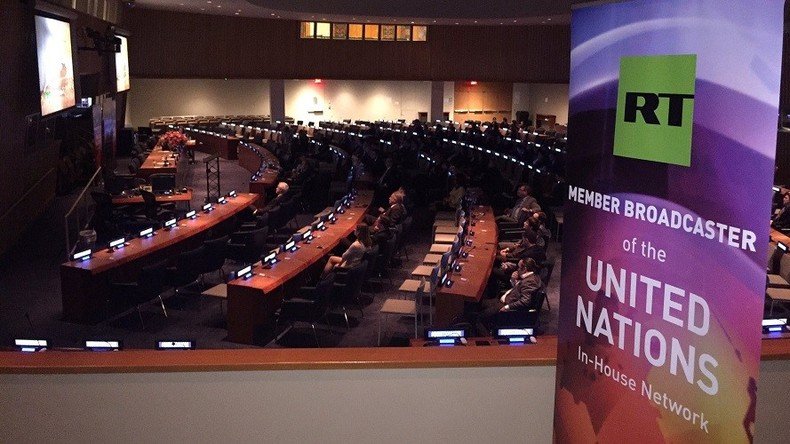 RT has joined an exclusive list of news outlets to broadcast on the internal information network at the United Nations headquarters in New York.
The "UN and RT are two most famous and most recognizable acronyms in the world," the Russian ambassador to the UN Vitaly Churkin said during a surprise appearance at the agreement ceremony, "Of course UN is an old institution, RT is quite young, but they are brash, they are aggressive, they are talented, they are 'in your face!'"
"And you know, let's face it, everybody watches RT: diplomats do it, ambassadors do it, foreign ministers do it, heads of state and government do it.. And they do not just do it, but they discuss it, they make public statement about RT. Sometimes they sound, even in their criticism, as if they are PR representatives of RT."
"Now they can [watch RT] without even leaving the premises of the United Nations… I think it is button 66… thank you for not making it 666," the Russian envoy joked.
RT International TV channel became a part of the UN in-house broadcast on Tuesday, joining some of the world's major international channels broadcasting to UN officials.
"Today, in the era of sweeping, global political changes, it is more important than ever to consider different points of view – to compare them, to draw independent conclusions," RT's Director General, Alexey Nikolov, who attended the agreement ceremony in New York, has said.
While the channel is a "go-to source for alternative perspectives on current events" for millions of viewers around the globe, it's RT's "diversity of views and stories that... is the embodiment of the fundamental principles of the organization," he added.
"What I see today is that more and more frequently people produce the highfalutin talk about using the word 'propaganda' that echoes those dark days of the Soviet era…" Nikolov said. "There was a great choice of [Russian] newspapers we were told…and they all give you the real news…and you were strongly advised against trying to get a hold of a British newspaper…because everything you can read in a Western newspaper was nothing more than propaganda."
Nikolov wondered if those who label RT's reporting as "propaganda" would like to live in a world "where someone else decided for you what you are allowed to read and watch, and what you are not allowed."
"Unlike these people I know what it is like. For more than half of my life I lived in the country where I heard the mantra about the propaganda every day," RT's Director General explained. Now that the Soviet times are gone, people not only in Russia but everywhere in the world "must have the right to know the different news, coming from different sources and then make their own judgment."
The UN network can be watched by staff members and delegates, as well as other officials visiting the iconic building, on desktop computers and on monitors in public spaces at the headquarters.
"It is home to a diverse range of news broadcasting networks from around the world and in different languages," UN Under-Secretary-General Cristina Gallach said, welcoming RT's addition to the broadcast.
"You will find yourself in a good company because we have many other news channels that broadcast in house and that help all of us that are here to understand better the different perspectives," Gallach said.
"In the current complex world the different perspectives, the different point of views, and the diversification of sources is quite critical," the UN Under-Secretary added.
Gallach said RT's Spanish, Arabic, and French broadcasts will be "much welcomed."
You can share this story on social media: