Dortmund bus bomb: German police detain suspected Islamist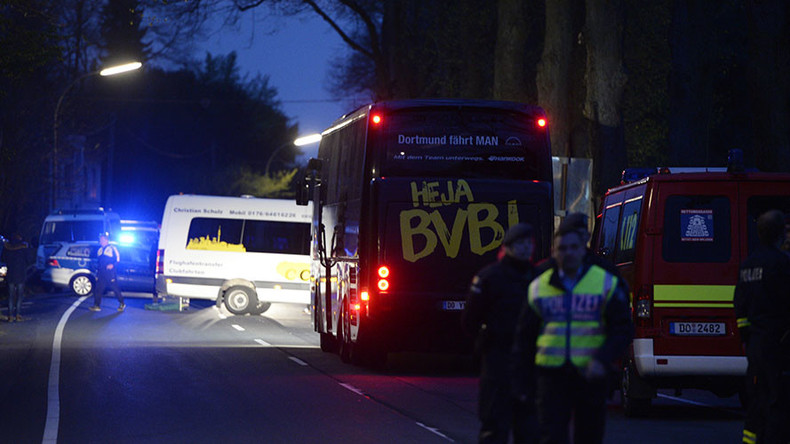 German police say that two people suspected of involvement in Tuesday's bombing near the Borussia Dortmund team bus have an Islamist background. The federal public prosecutor also confirmed that the explosives used contained metal shards.
Police have searched the apartments of both suspects, one of whom has been arrested, the prosecutor confirmed Wednesday. Officials are attempting to secure an arrest warrant for the second suspect.
A spokesperson for the public prosecutor, Frauke Koehler, said shrapnel from the explosive devices used in the attack traveled more than 100 meters (330ft) and contained metal pins which had pierced a headrest of a bus seat.
The team bus was severely damaged in the blast, which police are treating as a terrorist attack "based on the facts of the crime," however the exact motive remains unclear, according to a police statement.
READ MORE: 'Serious explosives' used in Dortmund team bus blasts, no terrorism link yet – police
Three letters were found at the scene of the blast, the nature of which led investigators to believe the attackers may have an Islamic background. Earlier reports from German media claimed one of the letters opened with: "In the name of Allah, the Gracious, the Merciful."
Police confirmed the letter calls for the withdrawal of German Tornado aircraft from Syria and the closure of the American airbase at Ramstein.
Another letter posted online, which also claimed responsibility for the attack, came from a group with "left-wing extremist background" police said. An investigation into the post, however, cast "considerable doubts about the authenticity" of the claim.
Three bombs hidden behind a hedge went off near the Borussia Dortmund team bus on Tuesday evening as the team made its way to a Champions League quarter-final game against Monaco.
READ MORE: Germans offer #BedForAwayFans following Borussia Dortmund attack (PHOTOS)
Dortmund's center back Marc Bartra was the only person to suffer injuries in the blast, with his arm and hand affected. He has since undergone surgery, according to the club.
The fixture has been rescheduled for Wednesday evening.
You can share this story on social media: