German police investigating 'Islamist link' in Borussia Dortmund bus blast - report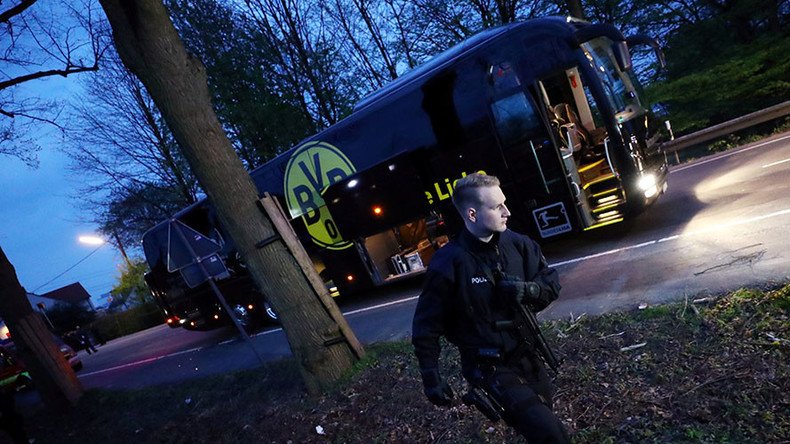 German police are investigating an "Islamist link" to the bomb attack on a Borussia Dortmund team bus, as well as an online post from an "anti-fascist" group which claims responsibility.
A number of bombs went off near a German team bus as it transported players to a Champions League quarter-final game on Tuesday night. A spokesperson for German Chancellor Angela Merkel said she was "appalled" by the attack.
READ MORE: 'Serious explosives' used in Dortmund team bus blasts, no terrorism link yet – police
According to the German newspaper Sueddeutsche, it opens with: "In the name of Allah, the Gracious, the Merciful," and also mentions the Berlin attack.
It also references Germany's military involvement in surveillance operations against the Islamic State (IS, formerly ISIS/ISIL) as the reason for the attack, reports Reuters, citing Sueddeutsche.
It adds that athletes and other celebrities "in Germany and other Kreuzfahrer [Crusader] nations" would be on a "death list of the Islamic state" and this will apply until German Tornadoes are withdrawn and the American airbase is closed at Ramstein.
However, investigators also claimed the letter may have been an attempt by those behind the attack to mislead prosecutors, the paper reports.
Investigators are also examining a second letter claiming responsibility for the attack that was published online on Tuesday evening by a group named Antifa, a so-called "anti-fascist scene," which claimed the attack was a "symbol for the policy of BVB [Borussia Dortmund]," reports Reuters citing Focus magazine, referencing neo-Nazi and racist fans of the club.
Germany's federal public prosecutor will hold a news conference on the progress of enquiry at 12:00 GMT.
READ MORE: Germans offer #BedForAwayFans following Borussia Dortmund attack (PHOTOS)
Most players were left unscathed in the attack, except for Spanish center back Marc Bartra who suffered injuries to his arm and hand, with the club wishing him a "speedy recovery."
As players returned to training on Wednesday, Dortmund Chief Executive Hans-Joachim Watzke told the media: "We won't give in to terror."
"We do not just play for us today. We play for everyone," Watzke said. "We want to show that terror and hatred can never determine our actions. And of course we play for Marc Bartra, who wants to see his team win!"
UEFA, European football's governing body, has said security at all Champions League fixtures will be reinforced.
Ahead of Wednesday's rescheduled match between Dortmund and Monaco, officials at the German club have said that due to "security reasons and, at the behest of the police, no backpacks will be allowed to be brought into the stadium."
You can share this story on social media: