Gay couple in Indonesia faces up to 100 cane strokes for having sex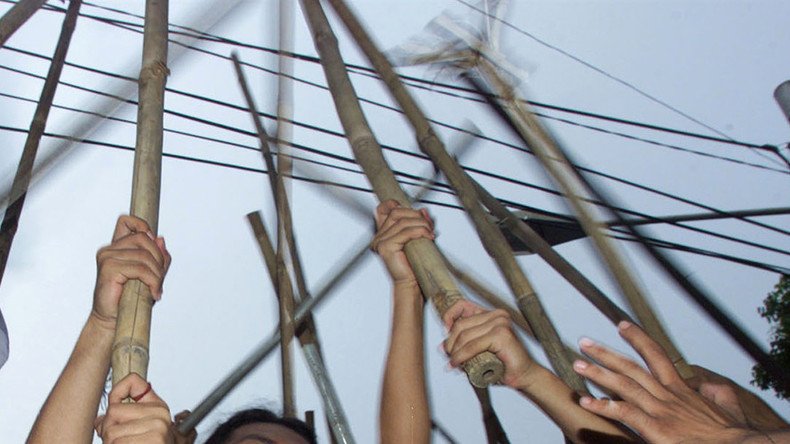 Two men in the conservative Indonesian province of Aceh face up to 100 strokes with a rattan cane each after vigilant neighbors filmed them and reported them to a Sharia court for having gay sex.
Residents of the provincial capital Banda Aceh reported the two men, 23 and 20, to the Sharia police for allegedly having gay sex, according to AP.
The vigilant neighbors suspected the two men of having "too intimate" a relationship and tried to catch them at the "crime scene." The residents provided video footage to the police, which reportedly shows one of the gay suspects naked and in distress, while the other is being pushed by other locals who prevent him from fleeing. The footage also reportedly circulated online.
The men have already "confessed" to being gay, AP reported, citing the Sharia police's chief investigator Marzuki, who goes by a single name.
"Based on our investigation, testimony of witnesses and evidence, we can prove that they violated Islamic Shariah law and we can take them to court," Marzuki said.
The couple, if found guilty, will be the first to be caned in the country for having gay sex in accordance with new laws implemented two years ago, Marzuki added. According to the law, sex between men is punishable by up to 100 cane strokes, 100 months in jail or a hefty fine of 1,000 grams of gold.
READ MORE: Students get 100 lashes for sex outside marriage in Indonesia
Aceh is the only region of Indonesia practicing Sharia law, and has done so since 2006, after the central government reconciled with the Free Aceh Movement (GAM) separatists, ending a decades-long war. Islamic punishment is enforced there for a number of offences, such as adultery, gambling, and drinking alcohol.
Sharia law applies not only to Muslims – in April last year, a Christian woman got 28 cane strokes for selling alcohol, according to Amnesty International data. The definition of the "offences" is also quite wide, as a group of men got caned for "gambling" after getting caught betting on passing bus numbers, while a woman can get punishment for "adultery" for just standing "too close" to an unrelated man or even a boyfriend.
You can share this story on social media: