Students get 100 lashes for sex outside marriage in Indonesia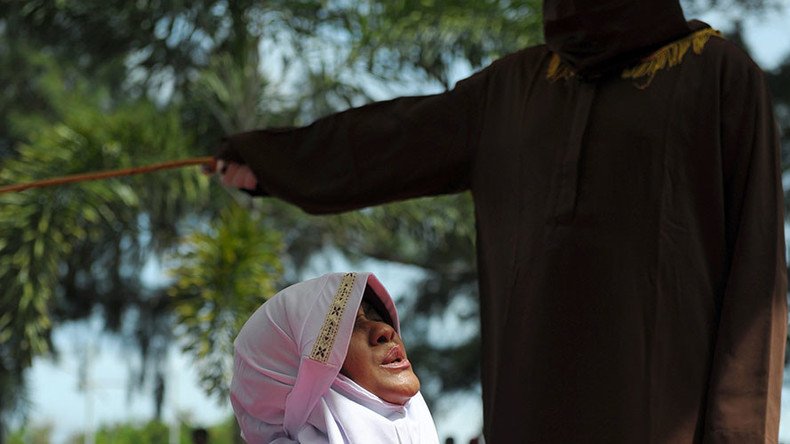 Nineteen-year-old Indonesian students who received 100 lashes were among a group of people flogged in the conservative province of Aceh, which adheres to Sharia law.
A total of five people, including two women and three men, were caned outside a mosque in the provincial capital Banda Aceh on Monday, according to AFP.
The 34-year-old woman was flogged with a rattan cane at least seven times for being in close proximity to a man. The 32-year-old male who was with her was also flogged seven times.
"It hurts so bad," the woman said, as cited by AFP, raising her arms into the air.
Among the others who were flogged on Monday were two university students, both 19, who confessed to having sex outside marriage. They received 100 lashes.
A man found guilty of sex outside marriage was also flogged at least 22 times by the person delivering the punishment, who was dressed in long robes and a hood. His partner, who is two-months pregnant, is still waiting for her fate to be decided.
In such situations, officials in the province usually order the flogging of women after they give birth.
Although Indonesia is officially a secular state, a number of provinces enjoy significant autonomy from the central government. Of these, Aceh is the only region to apply Islamic Sharia law in full, since special legislation was passed in 2001. The strict application of the Islamic code means behavior such as touching, hugging and kissing between unmarried couples is forbidden. Gay sex, gambling and drinking alcohol are also prohibited.
In October this year, at least two young women were publicly caned for getting "too close" to their boyfriends in Aceh. Several unmarried couples in the province also faced the punishment for being intimate. One man was flogged for reportedly spending time with a woman in a secret location which, according to the laws, could lead to adultery.
You can share this story on social media: