Alternative for Germany (AfD) party claims to be 'guarantor of Jewish life' amid anti-Semitism row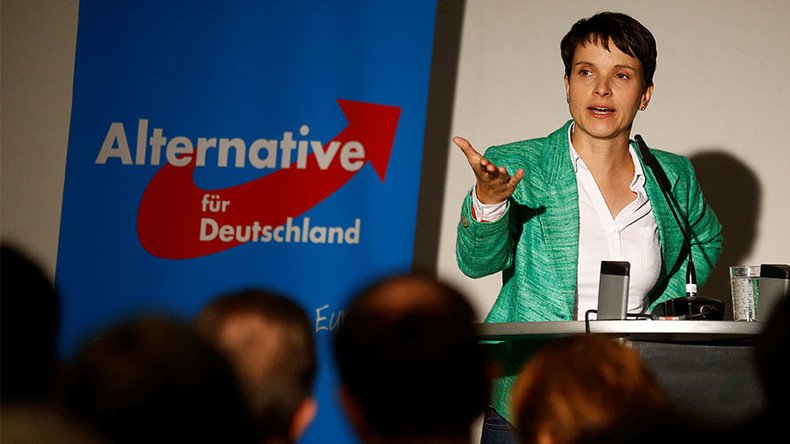 The far-right AfD party has claimed to be a "guarantor of Jewish life" amid public outcry over comments made by one of its leaders considered to be anti-Semitic. The country's Jewish community says the "brazen and dishonest" party has no place in Germany.
"The AfD is one of the few political guarantors of Jewish life, especially in times of illegal anti-Semitic migration to Germany," AfD Chairman Frauke Petry told Die Welt in an apparent reference to immigrants from Muslim-majority countries.
Petry also called the Holocaust memorial "socially controversial," but added that her party always opposed calls from left wing parties to boycott Israeli goods produced in the occupied West Bank.
Last week, Ronald Lauder, the president of the World Jewish Congress, called AfD "Germany's disgrace" after one of its leaders, Bjoern Hoecke, called Berlin's Holocaust Memorial a "monument of shame" and denied that Adolf Hitler was "an absolute evil."
In response to Hoecke's remarks, Lauder said, "this party has no place in Germany. I hope they soon disappear from the political stage," stressing that "what he [Hoecke] said in his interview with the Wall Street Journal was absolutely shocking and repulsive. He sounded like an apologist for Hitler. It is clear to me that AfD party panders to the extreme-right. They are playing with fire."
The head of the Munich Jewish community and World Jewish Congress Commissioner for Holocaust memory, Charlotte Knobloch, dismissed Petry's remarks, saying "it is incredibly brazen and dishonest that the AfD is now trying to exploit the justified concerns that exist among Jews when it comes to anti-Semitism among Muslims in Germany,"according to N-TV.
Knobloch added that AfD advocates revisionism and a crackdown on religious freedom, while doing nothing to suppress racist, xenophobic, and anti-Semitic statements in its own ranks.
Referring to Adolf Hitler, Hoecke told the Wall Street Journal in January that "even the worst severe criminal perhaps has something good, something worth loving, but he is still a severe criminal… There is no absolute black and no absolute white in the sphere of reality."
Asked to clarify his point about "Hitler's shades of gray," Hoecke responded"I didn't say that there is something good. But it is to be excluded – purely through logic, purely philosophically it is to be excluded – that a man is only dark."
The Alternative for Germany party, which has long been accused of spreading ultranationalist ideas and playing on popular fears about mass immigration, is now going through a period of turmoil amid shrinking voting support. The controversy over Hoecke's views has led to a feud between Petry and Joerg Meuthen, a co-leader of AfD. While Petry wants to expel Hoecke, Meuthen has defended him.
You can share this story on social media: