Astrakhan shootings: 4 gunmen dead in southern Russia after 2 deadly attacks on police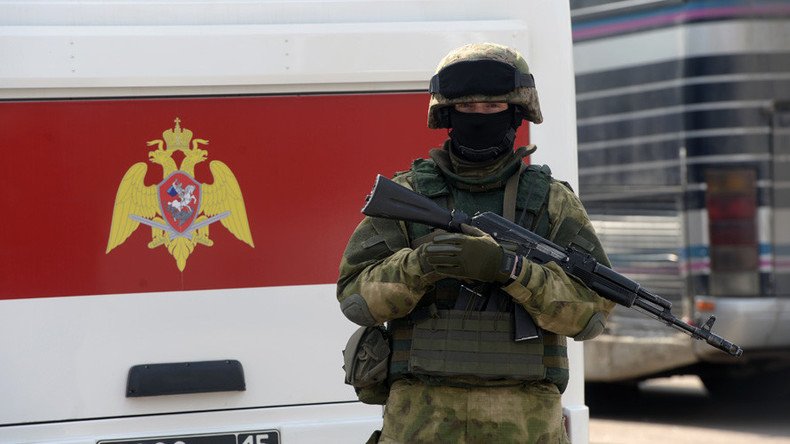 Four suspects in the twin attack on police in Russia's southern city of Astrakhan have been shot dead during a manhunt, hours after their second attack since Tuesday, the National Guard said. The gunmen killed two officers, seriously injuring two others.
Three Russian National Guard servicemen were shot at from a moving vehicle at a checkpoint on Thursday, RIA Novosti reported. One of the attackers was killed on the spot.
Police cordoned off the entire district of the city where the attack took place, with no vehicles allowed in or out. A special operation was launched. Local investigators have confirmed that the attackers were identified as suspects in the fatal April 4 shooting.
"One of the suspects in the murder of policemen in Astrakhan was eliminated during an attack on a National Guard post, while another died after an injury to his back, two others were located and eliminated. All of them were wanted in the case of the [April 4] murder of the police officers. There have been no casualties among National Guard servicemen," a National Guard spokesman told Sputnik news agency.
The gunman killed at the checkpoint has been identified as Ramzan Kukulayev, TASS reported, citing police sources.
Another assailant, who succumbed to injuries after fleeing the scene of the attack, has been reportedly identified as Nurbol Sapsanov.
Two of the injured officers have undergone surgery, TASS reported, citing a source in the National Guard press service.
"They are both in the critical care unit. Their condition is serious but stable," the source added. The third officer was only lightly injured.
The investigators have searched a house where one suspect lived and found an audio recording in which he "expresses extremist views and calls for people to commit crimes," an official from Russia's Investigative Committee, Svetlana Petrenko, told TASS.
On Tuesday, Astrakhan Governor Aleksanr Zhilkin told media that the April 4 attackers were suspected to be part of a group of Islamist extremists, following an emergency counter-terrorist meeting on the attack. This, however, has not yet been confirmed by investigators.
On April 4, a group of armed assailants in a vehicle shot and killed two police officers who arrived at the scene of a road traffic accident. The attack took place while police were writing up an on-the-spot accident report. One of the officers was reported to be a father of two.
The attacks come amid a heightened terror alert in Russia following the Monday bombing of the St. Petersburg Metro, in which 14 people were killed and some 50 hospitalized in a suspected terrorist attack.
You can share this story on social media: