'Intelligent, sportsman, didn't pray': St. Petersburg bomber 'showed no signs of radicalization'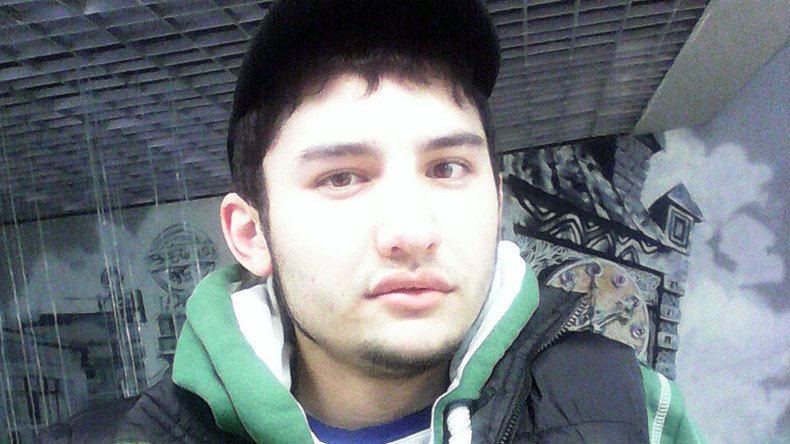 Parents, friends, colleagues and neighbors say that St. Petersburg bomber Akbarzhon Dzhalilov showed no signs of radicalization or religious fanaticism, describing him as "average," "intelligent," "a sportsman" and someone who "didn't pray."
The name of Dzhalilov, a 22-year-old Kyrgyz-born Russian citizen, surfaced in Russian and Kyrgyz media on Tuesday morning, when several outlets started released pictures they claimed to have found on social media.
The Russian Investigative Committee later confirmed him to be the prime suspect behind the blast.
Dzhalilov rented an apartment in the north-eastern district of St. Petersburg, some 20km away from the scene of the attack, a month before the blast, after he returned from a trip to his home city of Osh in southern Kyrgyzstan, Reuters reports.
The next day after the attack, security officials raided the apartment Dzhalilov had rented. An Investigative Committee spokeswoman told reporters that investigators found items in the apartment that were similar to the IED parts used in the unexploded device planted at the Ploshchad Vosstaniya station.
The spokeswoman added that both the IED and the items found in the suspect's apartment were sent for analysis, adding that "final conclusions concerning this matter would be made only on the basis of the results of the analysis."
In the meantime, witnesses who were present during the search in Dzhalilov's apartment told Reuters that they saw household containers with an unidentified powder inside as well as "various powders in jars."
At the same time, Dzhalilov's neighbors told Reuters that he was a quiet tenant. "The apartment was always silent," one of his neighbors said, adding that she "never heard ... any music playing.""Maybe he turned on the TV once," she said.
The explosion on Monday claimed the lives of at least 14 people, according to the Russian Health Ministry.
According to the media, Dzhalilov was born in Osh, the second largest city in Kyrgyzstan, in the south of the country. He has a brother who is a student at a school in Osh, and a sister who is married. His father lived in St. Petersburg for quite some time and reportedly has Russian citizenship.
Dzhalilov didn't have a Kyrgyz passport, Kyrgyz officials said. He was reportedly a minor when he moved to St. Petersburg with his father.
The consul general of Russia in Osh, Roman Svistin, told Sputnik Kyrgyzstan that Dzhalilov received his citizenship back in 2011. The decision was based on a law stating that citizenship can be given to those who have a Russian citizen as a parent. Dzhalilov's father is currently living in Osh.
No signs of radicalization, say those who have known Dzhalilov since childhood
On Tuesday evening, Dzhalilov's relatives – who arrived in St. Petersburg – refused to talk to the media. His mother shook her head in an apparent negative answer when asked if she believed her son was involved in the explosion.
Dzhalilov's former teacher in Osh, Fatima Kadyrakumova, told RT that he "was an average, intelligent and educated boy."
"He never offended any other students and his parents were never ashamed of his behaviour… He was in good relations with all classmates," she said, adding that his mother was a housewife.
A former neighbor of Akbarzhon Dzhalilov, Dilorom Yusupjanova, also didn't notice any signs of extremism in his behavior.
"[He was] a good boy, a good one since childhood. I hadn't seen him do bad things. I don't know if he had friends here... Well, we didn't see anything wrong with him," she told Ruptly.
Akbarzhon Dzhalilov's uncle, Imadzhon Dzhalilov, told Kyrgyz media that his nephew wasn't a religious fanatic.
"We are speechless, we were all shocked, we never thought he could do something like this. He was the most obedient kid in the family, did well at school," Dzhalilov's aunt, Surayo Jalilova, told Reuters in Osh.
Osh district official Anvardjon Dadabaev told RIA Novosti that the Dzhalilov family was "quiet and friendly."
"I met his mother…This family is not deeply religious, more secular," he added.
A colleague who worked with Dzhalilov for three months in 2013 at Sushi WOK, one of the biggest sushi delivery services in Russia, told RT that he hadn't noticed any suspicious signs about his former co-worker.
READ MORE: St. Petersburg Metro bomber, identified as 22yo Dzhalilov, planted another bomb
"He was a quiet man. He didn't pray. He didn't attend a mosque," the man, who spoke on condition of anonymity, told RT.
Another former colleague of Dzhalilov, Otabek Djuraev, wrote on his page on Russian social network Vkontakte that he was a "normal man.""I knew him as a sushi cook," he added.
One of Dzhalilov's acquaintances, Salam Hudoerzoda from Tajikistan, told RIA that he also hadn't noticed any extremist tendencies. Both had attended the same St. Petersburg gym.
"I saw him in the gym a couple of times…Then he disappeared…. Either he left to another place, or ceased to engage in sports in general," said, adding that he hadn't heard anyone promoting extremist views at the gym.
In the meantime, as the second day of mourning for 14 victims of the terror attack is observed in the city of St. Petersburg, RT's Ilya Petrenko went down to the St. Petersburg Metro to reconstruct the events of that incident.
You can share this story on social media: