Euro Commission chief says 'no' to Austria's plea to quit refugee quota scheme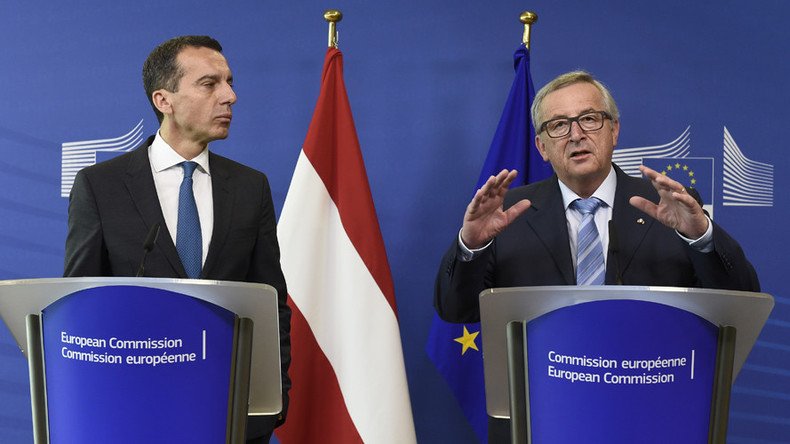 EC President Jean-Claude Juncker has rejected Austria's request to allow it to withdraw from the mandatory EU refugee resettlement program that obliges it to accept more asylum seekers under the quota assigned to it by Brussels.
"Austria is legally bound to [participate] in the relocation [program] and I personally expect that Austria fulfills its obligations," Juncker wrote in an official answer to Austrian Chancellor Christian Kern's letter sent to the European Commission in late March, in which Kern outlined Austria's reasons for quitting the relocation program.
At that time, Kern said that Austria had already fulfilled its obligations as it took more than its fair share of asylum seekers. The proposal to quit the program was introduced by Austrian Defense Minister Hans-Peter Doskozil, who said that Austria is already "one of the countries that bear the heaviest [refugee] burden."
The proposal was introduced after Austrian Interior Minister Wolfgang Sobotka had announced that Austria had begun the process of relocation, and it eventually won the backing of the Austrian Cabinet despite a heated discussion.
The Chancellor also said at that time that Austria would like to quit the program without any legal confrontation with Brussels.
Now, the European Commission head says that the situation with migrants in Europe has dramatically changed since 2015 as the EU has established proper controls on its outer borders and in the Mediterranean Sea, apparently referring to the closure of the so-called Balkan Route, the refugee deal with Turkey and the operation Sophia conducted by the EU in the Mediterranean Sea.
He also stressed that the number of newly arrived refugees has significantly deceased but Greece and Italy still need assistance in alleviating their refugee burden. "The relocation [program] is an expression of solidarity and equitable distribution of responsibility … that requires active participation of the [EU] member states," he said in a response, according to Austria's APA news agency.
Juncker warned that the EU has little time to reach the goals of the relocation program that ends in September 2017 and stressed that "it would not be a good sign if we together fail to relocate all planned [refugees] from Italy and Greece [to other EU countries]."
In February, it was reported that EU member states only relocated slightly more than 15,000 asylum seekers from Italy, Greece, and Turkey out of 160,000 the EU initially pledged to resettle in 2015 under its controversial refugee quota system.
Meanwhile, some 26,600 new refugees reached Europe in the first three months of 2017, Germany's dpa news agency reported, adding that 164,000 asylum seekers came to Europe over the same period in 2016.
In his response, Juncker stressed that the current situation in Austria cannot be described as a "sudden [massive] influx" of some foreign citizens, which could be considered a reason for its exemption from the program.
"I expect hereby that Austria will fulfill its legal commitments and start the process of relocation both from Italy and Greece," Juncker said, adding that the European Commission is ready to the issue of "how we could assist the Austrian authorities in fulfilling their obligations step by step."
Under the EU refugee resettlement and relocation program agreed in 2015, Austria has to take in some 460 asylum seekers from Italy and about 1,400 refugees from Greece. However, after Austria accepted around 90,000 refugees in 2015, it was granted a temporary exemption from the relocation program. That brief reprieve expired on March 11, 2017, prompting the Austrian authorities to try to withdraw from the relocation system at all.
Kern took the news from Brussels with optimism and called Juncker's response "a good basis for further negotiations" on the issue. He also acknowledged that the EU's demand is "understandable from a legal point of view," adding at the same time that Juncker demonstrated readiness to "meet [Austria's] needs," as reported by APA.
He particularly stressed that Vienna sees "room for maneuver" in negotiations with Brussels concerning the time by which Austria should fulfill its obligations and the number of refugees it should accept.
Kern's reaction surprised some Austrian media that called the reasons behind such response "mysterious," adding that his latest statements in fact contradict the previous ones while his interpretation of Juncker's words is at least misleading.
Some other Austrian media outlets draw attention to the fact that earlier on Wednesday Kern actively defended the government's proposal and said that Austria already took 12,000 asylum seekers, who actually filed their asylum requests in Italy and Greece.
In the meantime, Austrian Foreign Minister Sebastian Kurz called Juncker's response "predictable." He also drew attention to the fact that the EU top officials in Brussels seem to be much more concerned about the relocation of refugees within Europe than about the protection of the bloc's outer borders, even though they declared the latter to be the union's primary goal.
At the same time, Austrian Interior Minister Wolfgang Sobotka once again announced that Austria begins the process of relocation, without giving any details.
You can share this story on social media: