6.1 earthquake hits near Iran's second-largest city at depth of 13km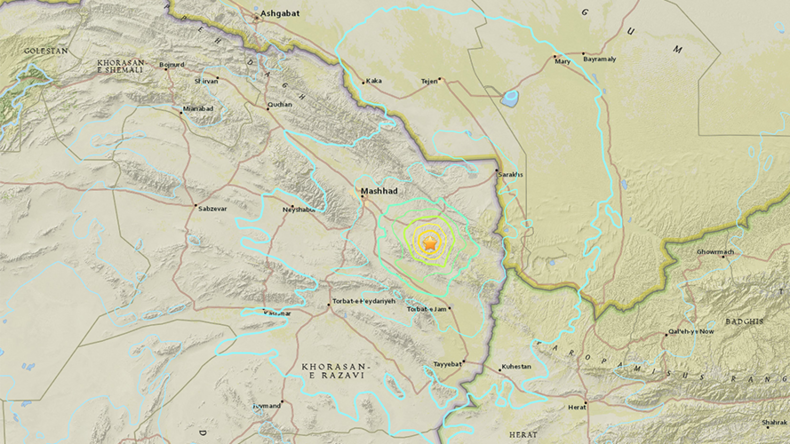 A 6.1 magnitude earthquake has struck 89 kilometers from Mashhad, Iran's second most populous city, the US Geological Survey reported, adding that the tremor had a been registered at a shallow depth of 13 kilometers.
The quake hit northeastern Iran, 96 kilometers from the city of Mashhad, which has a population of over 2.3 million people.
There have been no reports of casualties so far.
Tasnim news agency reported several aftershocks, which are expected to continue, while adding that phone service in the affected areas has been disrupted.
The epicenter was located at Sefid Sang, a city in Khorasan Razavi Province's Qalandarabad District, the Iranian Seismological Center of Tehran University reported, as cited by Tasnim.
"It was horrible. It made a lot of noise. Everything was shaking," a Mashhad resident told AFP.
READ MORE: ​Twin quakes wreak havoc in Iran, killing at least one
The Iranian Red Crescent Society (IRCS) has dispatched rescue teams to the affected areas, Tasnim said, adding that at least five aftershocks have followed the major quake.
The USGS reported that the original quake was followed by an aftershock of 4.8 magnitude and at a depth of 10km.
Four tectonic plates (Arabia, Eurasia, India, and Africa, Anatolia) are responsible for seismic activity in the region, USGS said. In particular, the collision of the Arabian and Eurasian plates "causes crustal shortening" in the Alborz and Kopet Dag Mountains in northern Iran, which leads to earthquakes, it added.
You can share this story on social media: