Video of gender-segregated Muslim school bus leaves Swedish authorities fuming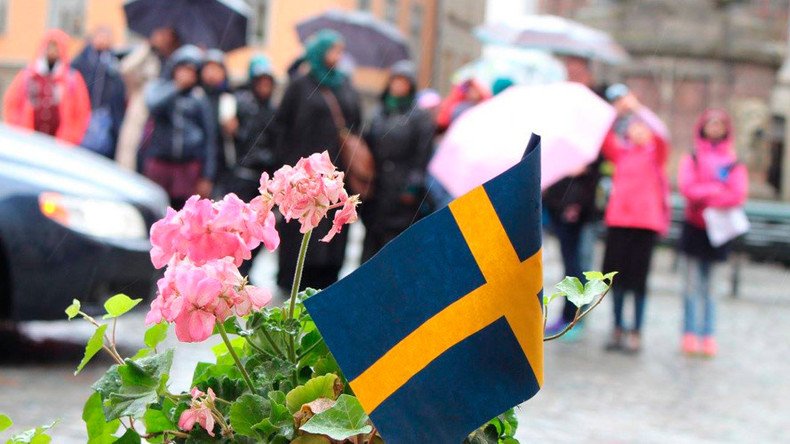 Swedish Prime Minister has slammed the policy of gender segregation in a Muslim school after a Swedish TV channel revealed that girls are forced to board their school bus through the back door, while boys use the front one.
The video is part of the latest episode of TV4's "Kalla Fakta," or Cold Facts, show, which was to be aired on Tuesday evening. It features secret footage showing children between six and 10 years old being segregated by gender while boarding a school bus. The boys freely use the front door while the girls are directed to the rear door.
The Cold Facts' reporter, Helena Gissen, also found out that the pupils are being divided by gender during school prayers as girls sit in one room, and boys in another one. Gissen asked the school headmaster, Hussein Ibrahim, to comment on the situation but he refused to do it and then demanded that the journalists leave the school, threatening to call the police if they do not.
"I think this is disgusting. This doesn't belong in Sweden," PM Stefan Lofven told reporters in Stockholm, adding that, in Sweden, "we take the bus together whether you are a girl or a boy, a woman or a man," AP reports.
He also said that the issue "indicates that we have more to tackle when it comes to segregation," adding that he had already given a corresponding task to his government.
The prime minister's words were echoed by Education Minister Gustav Fridolin, who said that rules preventing gender segregation in schools are apparently "too weak" and called for the tightening of the regulation concerning religious schools.
"This is completely unacceptable," Fridolin said, referring to the situation in the publicly funded but privately managed Al-Azhar school located in Stockholm's northwest neighborhood of Vaellingby, which was revealed by the Swedish TV4 Channel.
"Obviously, we have weak rules. It is clear that we both need to tighten the curriculum to prevent mechanistic gender separation from taking place, and to strengthen the regulatory framework when it comes to denominational schools," the education minister added, as cited by the Swedish Expressen daily.
He also stressed that if school does not comply with the directives given by the educational authorities, its license should be revoked.
The school's vice principal denied that the school authorities had any intention of dividing the pupils by gender. "This is not something that has been known or sanctioned by school management. Both the principal and I note, after seeing the video, that it has happened, but it is of course nothing we support," Roger Lindquist, the school's deputy headmaster, told the Swedish TT news agency, adding that it was apparently "a mistake."
Lindquist also claimed that around 80 percent of the school staff are non-Muslims, even though the educational facility describes itself as a school with a "Muslim profile."
"It is important to point out that the staff is not driven by religion but a passion to work with cultural and integration issues. It is also important that the school is not based on Muslim values but democratic ones," he said.
Al-Azhar school has some 120 employees and 660 students. The school, founded in 1995, says that Islam is taught as a separate subject. Children are allowed to pray during school hours. It already provoked controversy in late August 2016 when it was revealed that the school had gender-segregated gym classes.
At that time, the education inspectorate gave a green light to this move, even though Fridolin called such decision "surprising."
In February 2017, the Swedish government proposed a ban on single-sex classrooms across all subjects as part of a definitive measure to guarantee equality of education for all Swedish citizens.
Sweden's socialized school system is state-funded but privately run, which allows religious organizations to operate educational institutions so long as they adhere to the secular curriculum produced by the state.
You can share this story on social media: