Taxis, ordinary drivers offer free rides after blast plunges St. Petersburg into transport chaos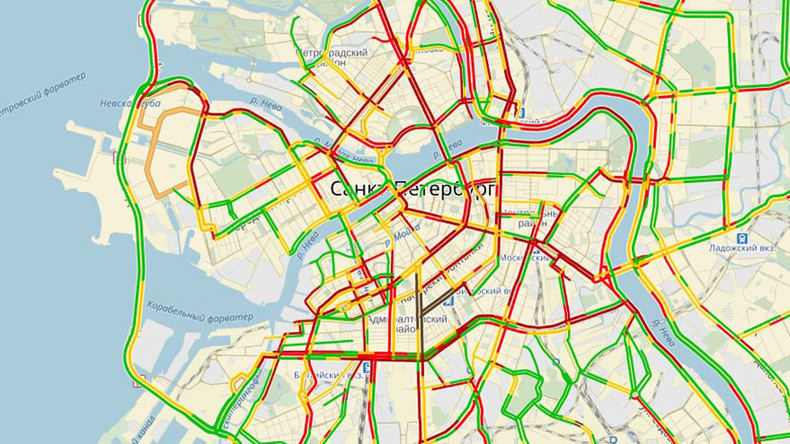 All public transport has been made free for the day in St. Petersburg, after a deadly Metro explosion forced the closure of several key passageways in the center, creating severe traffic jams. Companies and individuals are also offering to help stranded residents.
The Metro was shut down shortly after an explosion inside a train near the Sennaya Ploschad station killed at least 10 and injured 37, according to the Health Ministry. On a normal weekday about 2 million trips are taken on the city's underground transport system.
To compensate, city authorities launched an emergency bus service repeating regular Metro routes, and have canceled fares on all ground transport, though eyewitnesses on social media reported additional security checks causing delays.
READ MORE: Russian citizen of Kyrgyz origin 'possibly behind' St. Petersburg bombing – Kyrgyz security official
Online traffic maps showed that the traffic jam rating rose to 10 out of 10, with car speed on most traditionally-busy roads slowing down to 3 km/h.
Uber, Taksovichkof and several other taxi services have offered free rides from areas around the site of the explosion. Yandex Taxi, another leading online service, said that it was switching off peak tariffs, and calling all of its drivers to operate near the cordoned off area.
The city transport committee said that non-transportation companies have called in and offered their car fleets for emergency transport.
Some Twitter users reported being offered free rides by ordinary car owners, but there have also been claims of price gouging. Eyewitnesses said that drivers for some of the companies that dropped fares offered rides for cash-in-hand tariffs, while others said that they were only able to find 'gypsy cabs' providing trips for in excess of $20 – four or five times higher than normal rates.
User of Russian social network VK Svyatoslav Danilov said that he saw a "multitude" of cabs around the city center, with drivers preferring to wait for customers ready to pay exorbitant mark-ups.
"All taxi drivers, who earn their money this way should know that they are MORAL DEGENERATES. Money gotten from other people's misfortune has never brought happiness to anyone," wrote Danilov.
The hashtag #home (#домой) was trending on social media to request or offer free rides in St. Petersburg after the subway system came to a complete halt.
"I managed to get home. Every 2-3 minutes motorists stop at every station and offer free rides," one woman tweeted.
People were adding their contacts on Twitter so that anyone in need would be able to call them and get home free of charge.
"The whole city feels like one family," one person wrote.
"St. Petersburg is united today," others said.
"This [Instagram] post is about heroes…who drive people home for free and try to support them… This help gives us hope. Hope that our world has a chance. Thank, you!" one person posted.