'Trump not stopping me from beating up on Russia' – UN Ambassador Haley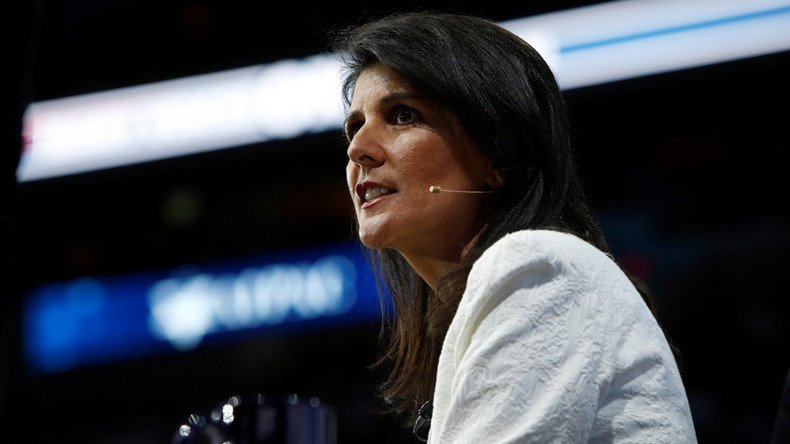 US Ambassador to the UN Nikki Haley told ABC's 'This Week' that President Trump's less confrontational stance is not an obstacle to her "beating up on Russia." Also on the show, ex-Defense Secretary Ash Carter warned against inconsistency in US policy.
Appearing on the show on Sunday, Haley said other nations are "happy that we're finally beating up on Russia," and she believes Moscow was involved in meddling with the US election.
"Certainly, I think Russia was involved in the election. There's no question about that," she said.
Haley denied that her stance was at odds with the president's, saying she had his approval for what she was doing.
"President Trump has agreed, and this administration agrees, that Russia's involvement in Ukraine is wrong," Haley told host Martha Raddatz. "The president has not once called me and said don't beat up on Russia, has not once called me and told me what to say."
READ MORE: Moscow slams NATO's traditional anti-Russia 'ritual dance' featuring debutant Tillerson
"I am beating up on Russia," she said. "[The president] has got a lot of things he's doing, but he is not stopping me from beating up on Russia... He's not stopping me on how we're working together [with Russia] to defeat ISIS."
"There's no love or anything going on with Russia right now," Haley also said.
Later in the program, Ash Carter, the former secretary of defense under Barack Obama, warned against sending mixed messages to Moscow.
"Well, I think in strategic affairs, clarity and consistency are very important. And so I hope that over time things settle down and one sees more clarity and consistency here," Carter told Raddatz. "I mean, this is our government and our foreign policy, and we all need to wish it success. But there does need to be clarity and consistency".
"And with respect to the Russians, they need to hear that from the United States. We have for decades now, and I've dealt with the Russians for 35 years, we have from time to time been able to, even though we have different interests, to align them."
Haley used her first appearance before the UN Security Council in February to accuse Russia of sending troops into Ukraine.
"The United States continues to condemn and call for an immediate end to the Russian occupation of Crimea," she said. "Crimea is a part of Ukraine. Our Crimea-related sanctions will remain in place until Russia returns control over the peninsula to Ukraine."
During his campaign, Trump suggested he might reconsider Washington's official line on the Crimea situation, telling ABC that "the people of Crimea, from what I've heard, would rather be with Russia." But in February, White House Press Secretary Sean Spicer told reporters that the Trump administration expects Russia to "return Crimea."
You can share this story on social media: