Shrine custodian drugs and slashes 20 worshippers in Pakistan (VIDEO)
Published time: 2 Apr, 2017 09:02
Edited time: 2 Apr, 2017 10:58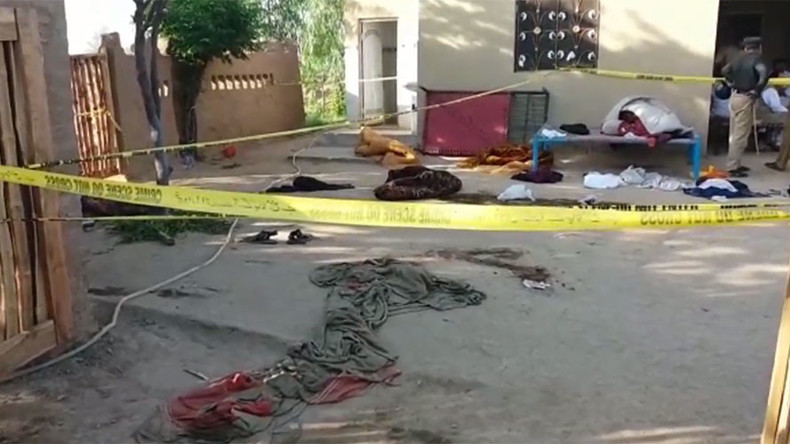 A shrine custodian and his four suspected accomplices were arrested after a grisly rampage which left at least 20 people dead and several injured.
The gruesome incident took place at a shrine in the city of Sargodha in Pakistan on Saturday night. The shrine's custodian, believed to be a government employee and resident of Lahore, allegedly drugged and killed 20 people using a dagger and a club.
Authorities were alerted by an injured woman who managed to escape the bloodbath along with three other survivors and reach a local hospital. Police arrested the main suspect and his four suspected accomplices at the scene.
"The 50-year-old shrine custodian Abdul Waheed has confessed that he killed these people because he feared that they had come to kill him," regional police chief Zulfiqar Hameed told AFP.
"The suspect appears to be paranoid and psychotic, or it could be related to rivalry for the control of shrine."
The suspect supposedly summoned the victims to his room one by one, gave them an "intoxicating substance," and then removed their clothes before beating and slashing them to death, the Dawn newspaper reported, citing Sargodha Deputy Commissioner Liaquat Ali Chatta.
"Beating and torturing" the worshippers in order to "cleanse them" was apparently a common practice in the shrine, the official added.
Another brutal murder case in Pakistan with religious overtones made headlines earlier this year.
Back in February, a woman, allegedly possessed by evil spirits, or "djinns," was killed by her "healers," who tied her to a tree upside down, while beating with sticks and fanning with smoke and heat.