Arabs and Jews hold anti-occupation rally in Jerusalem (PHOTOS, VIDEOS)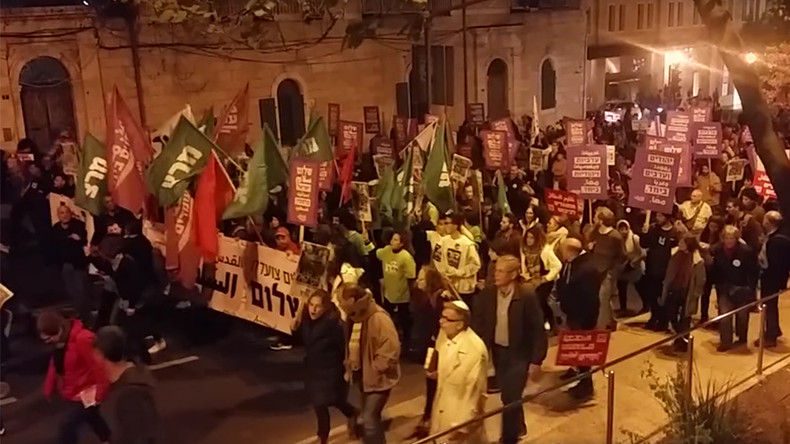 Thousands of Jews and Arabs have united for a peace rally against the Israeli occupation of Palestinian lands, after Tel Aviv officially approved the construction of a new West Bank settlement for the first time in 25 years, triggering an avalanche of criticism.
Some 2,000 people shouting "Jews and Arabs are not enemies" and "No to a government of annexation" marched from west Jerusalem to the Old City's Jaffa Gate. Holding both Israeli and Palestinian flags, the demonstrators demanded an end to illegal settlement expansion.
The rally is meant to "protest against the continued Israeli control over the territories and especially East Jerusalem, and in favor of a peaceful solution and justice for both peoples," Standing Together, an umbrella movement of pro-peace organizations and left-wing parties said in a statement, according to Haaretz.
The demonstration was jointly organized by Standing Together, the left-wing Meretz opposition party and the Arab-dominated Joint List.
Saturday's march is the first in a series of planned action marking the 50 anniversary of the Israeli occupation. The rally went off peacefully the authorities said.
Just hours before the event, however, Israeli police shot dead a Palestinian man after he stabbed two young Jews and a police officer in East Jerusalem's Old City.
READ MORE: Palestinian killed after stabbing three people in Jerusalem's Old City – police
Israeli settlements in the West Bank and other occupied territories such as East Jerusalem remains one of the most contentious issues in Palestinian-Israeli relations.
Nearly 400,000 Jewish settlers are currently living in the West Bank along with 2.8 million Palestinians. Another 200,000 Israelis live in East Jerusalem, an area claimed by Palestinians.
This week, for the first time in 25 years, Israel's security cabinet cluster approved construction of a new settlement in the occupied West Bank for ex-residents of the Amona outpost; demolished under a Supreme Court ruling last month.
As Israel continues to expand its settlements beyond the 1967 borders, outside powers warn that illegal settlements will be the main obstacle to the peace process. Following the approval of the new settlement on Thursday, a number of world powers went on to condemn the move by Prime Minister Benjamin Netanyahu.
EU foreign policy chief Federica Mogherini said the new settlement building threatens "to further undermine prospects for a viable two-state solution, which remains the only realistic way to fulfill the aspirations of both sides and achieve just and lasting peace."
"I urge Israel not to take steps such as these, which move us away from our shared goal of peace and security and make it harder to achieve a different relationship between Israel and the Arab world," Britain's Foreign Secretary Boris Johnson said in a statement.
Meanwhile, the French Foreign Ministry "condemned" the Israeli decision calling Netanyahu's move "extremely worrying." Paris warned that the decision could threaten peace and exacerbate tensions on the ground.
A German government spokesperson asked Tel Aviv to "clarify" its position on how it plans to achieve long-lasting peace with the new expansion. "Germany will not recognize any change in the 1967 lines, which has not been agreed between the parties," Haaretz cited the spokesperson as saying.
The UN Secretary General Antonio Guterres expressed disappointment and condemned Israel's unilateral actions that "threaten peace and undermine the two-state solution."
Washington, Israel's main ally, did not elaborate, with a White House official only saying that Tel Aviv "made clear that Israel's intent is to adopt a policy regarding settlement activity that takes President Trump's concerns into consideration."
You can share this story on social media: