Palestinian killed after stabbing three people in Jerusalem's Old City – police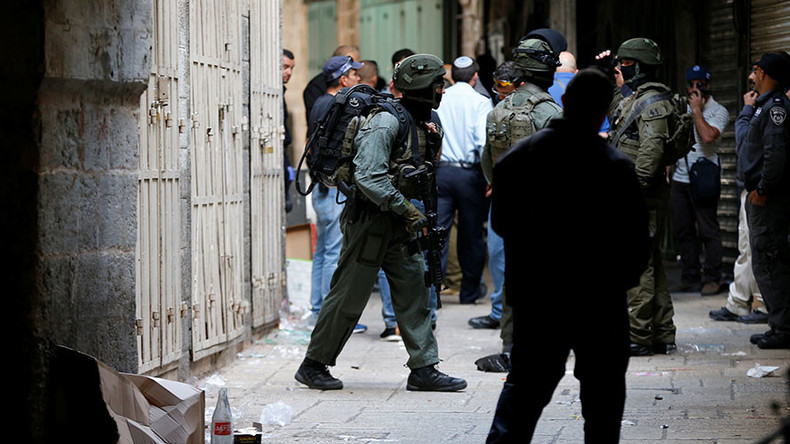 Israeli police say security forces shot dead a Palestinian man who stabbed two Jewish young people and a police officer in East Jerusalem's Old City.
Israeli police have neutralized a Palestinian teenager who stabbed two young Israelis in Jerusalem on Saturday, then fled the scene and stabbed a female border police guard who chased him, police spokeswoman Luba al-Samri said, according to AP.
Update to stabbing attack old city, Jerusalem. 3 people Injured lightly, taken to hospitals. Terrorist shot by police responding at scene.

— Micky Rosenfeld (@MickyRosenfeld) April 1, 2017
The victims suffered light injuries, Police Foreign Press spokesman Mickey Rosenfeld confirmed on Twitter.
The Palestinian man has been identified as 17-year-old Ahmad Zahir Fathi Ghazal from the West Bank, the Palestinian Health Ministry reports.
Palestinian news agency Ma'an has posted a video allegedly showing the moments after the attack when police officers started their pursuit of the attacker.
This is the most recent incident in a wave of similar attacks. On Friday, Israeli police shot and killed a Palestinian woman after an alleged stabbing attack near Damascus Gate in Jerusalem's Old City. There were no victims. The woman was identified as 49-year-old Siham Ratib Nimr from East Jerusalem by the Palestinian Health Ministry.
READ MORE: Mother of killed Palestinian shot dead during attempt to stab Israeli police officers
Nimr reportedly was the mother of a 27-year-old Palestinian man who was killed in September when his car came under fire.
Heightened security continues in&around the old city after attack at Damascus gate.No officers injured. Extra Police units mobilized in area pic.twitter.com/n5DOh5usYl

— Micky Rosenfeld (@MickyRosenfeld) March 29, 2017
Over 160 Palestinians who carried out stabbing, shooting, or ramming attacks using vehicles targeting Israelis were killed by Israel's security forces, Israeli officials say, according to Reuters.
READMORE: Israeli soldier sentenced to 18 months for fatally shooting wounded Palestinian attacker
Two Americans and 37 Israelis were also killed during the violence which erupted in 2015.
Israeli authorities lay the blame for inciting the violence on the Palestinian leadership. The Palestinian Authority in the West Bank, however, denies the accusations, pointing the finger at Israel and saying that government forces use excessive force when dealing with attackers armed with primitive weapons.